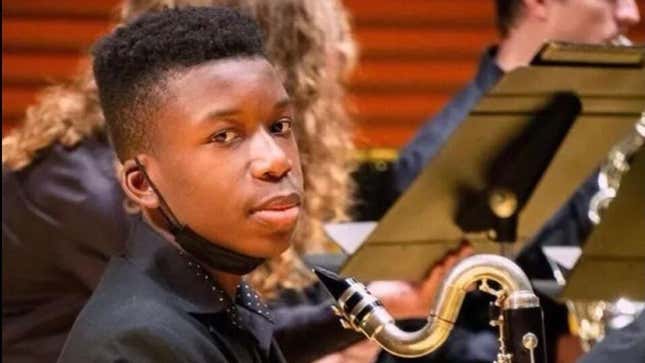 According to a new report from TMZ, the mother of Ahmaud Arbery—Wanda Cooper-Jones—is seeking to meet with Ralph Yarl. Yarl, the Black 16-year-old high school student who was shot multiple times last week in Missouri by a white homeowner, is currently at home recovering from his injuries.

Small Town Horror Story: The Vietnam Veteran Who Refused To Leave A Man Behind
The person accused of shooting Yarl, Andrew Lester, 84, is currently out on $200,000 bail. He claims firing at the teen "was the last thing he wanted to do, but he was 'scared to death.'" Yarl rang Lester's doorbell in attempt to pick up his siblings, but it was the wrong home.
Cooper-Jones' son, Ahmaud, was murdered in 2020 in a racist hate crime while jogging in Georgia. Both Cooper-Jones and the Yarl family are represented by civil rights attorney Lee Merritt. Per TMZ:
"Wanda Cooper-Jones, tells us she asked attorney Lee Merritt — who reps both her and Yarl's family — if he could broker a face-to-face so that she could lend the Yarls some moral support during this difficult time ... as she went through something similar. She says Lee thought it was a wonderful idea, and the wheels are already in motion for a sit-down between them in the near future — although it's unclear exactly when."

On Tuesday, Merritt shared that Yarl suffered permanent physical injuries from a cracked skull, loss of brain tissue and scarring. However, the teen is expected to make close to a full recovery. The lawyer also commented on Lester's release and why prosecutors haven't confirmed if the shots were fired from inside or outside of the home. In Missouri, the self-defense law states that a person can use such force against another if they "reasonably believe that such deadly force is necessary."
Lester, the owner of the property, said that he shot Yarl because he believed he "was protecting himself from a physical confrontation." However, Yarl's statement explains that he rang the doorbell and waited quietly before Lester opened the door and shot him. Attorneys told The Washington Post that ringing a doorbell doesn't justify the use of deadly force.
"We're frustrated with law enforcement and their failure to take responsibility for the denial of this family's due process. No one has owned up to it," Merritt stated. "This 16-year-old unarmed boy didn't actually pose a threat. But far too often in America, his skin alone is his weapon."
Cooper-Jones also hopes that Yarl receives justice and wants to offer her support since she has gone through a similar experience.