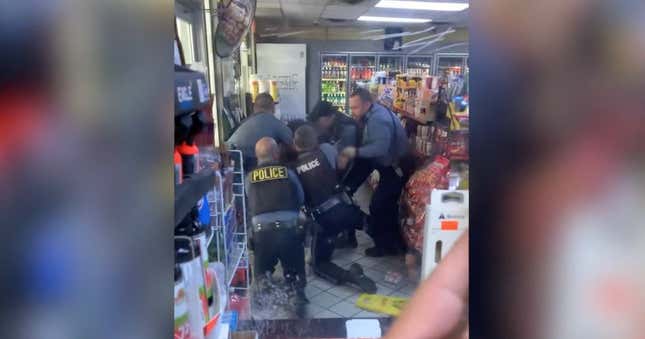 A Jackson County prosecutor found the officer who shot and killed Malcolm Johnson was acting in self-defense, per The Associated Press. His family and local advocates still believe the cops were just adding another murder to Missouri's ever-growing list of Black deaths by the hands of police.
Courtney B. Vance in Heist 88 Is Our Black TV Pick of the Week
St. Louis officer approached Johnson at a gas station store with their guns drawn. Per the surveillance footage, the officers grabbed Johnson and pushed him to the ground to detain him. An officer was shot by Johnson's firearm and as a result, the officer ended up shooting Johnson in the head twice. His family called his death an execution and local clergy and civil rights activists argued the manner of his death was not justified.
However, a special prosecutor requested by Jackson County reviewed the case and found the officer who fired the fatal shots was acting in self-defense.
Read more about it from KMBC 9 News:
In the report, the prosecutor's office team stated officers with KCPD were looking for Johnson in connection with an unrelated non-fatal shooting that had happened earlier in the week. The report states the officers watched Johnson from outside the store before entering and tried to take Johnson into custody as he was checking out.

It was during the arrest attempt that a struggle ensued, with Johnson noted as fighting against multiple officers.

In the video angles observed inside the store, sounds of a struggle could be heard before someone shouted, "he has a gun!" Authorities said "gun" can be heard on multiple recordings analyzed as part of the investigation. Shortly after that shout was heard, an officer standing by Johnson's side was shot in the leg. The report said after the officer was shot, he pulled his own gun and fired. Johnson was shot twice in the head and killed.
The Grand Rapids cop who shot Patrick Lyoya execution-style in the back of the head also argued that he was acting in "self-defense" alleging Lyoya tried to grab and discharge his Taser. The report in Johnson's case certainly left a bad taste in the mouth of his family.
Now the police department has prioritized "building community trust" amidst the tension.