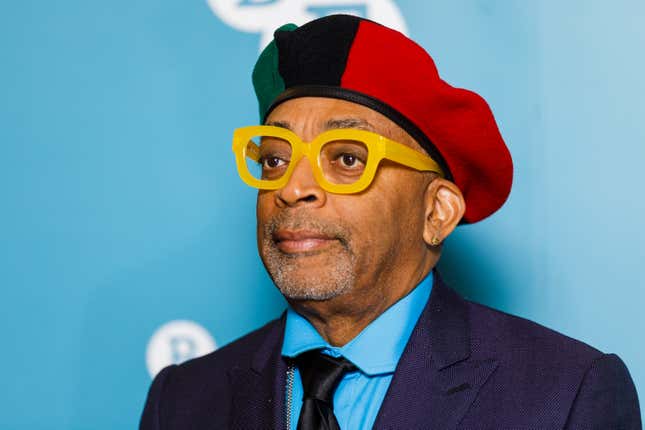 Spike Lee has never been one to mince words when he feels the entertainment industry is treating Black artists unfairly. In the wake of awards season controversies involving Beyoncé, Viola Davis and Danielle Deadwyler, the legendary filmmaker definitely had some thoughts on how these women were shut out of receiving recognition for their extraordinary work.

When Beyoncé's record-breaking album, Renaissance, didn't win Album of the Year at the 2023 Grammys, it sent shockwaves throughout the music world. Even Harry Styles, who actually won the award for Harry's House, seemed stunned to hear his name called. In the aftermath of the event, the conversation centered around how the Recording Academy wants to celebrate her as the person with the most Grammy wins in history, while also repeatedly snubbing her in its biggest category. Beyoncé has been nominated for Album of the Year four times, each time losing to a white artist. This is a particularly tough pill for Lee to swallow.
"I know she's won multiple Grammys, but four times nominated for Album of the Year and she's lost every time?" Lee told The Guardian. "No disrespect to those artists like Adele or Harry Styles who won. It's not their fault, but that's some straight-up bullshit."
There's a long-running argument about why Black artists should care about white awards. Simply put, it's about the money. When Patrick Mahomes makes the playoffs, wins the MVP and the Super Bowl, he gets a nice bonus for having an exceptional season. When actors get nominated for prestigious awards like the Oscars or Emmys, it elevates their careers to a different level. You get offered better roles, elite directors who didn't know you before are suddenly interested in working with you, and if you're already on a series, you can negotiate for a better contract. If you're someone like 2023 Oscar nominee Brian Tyree Henry, or Till star Deadwyler, that's a huge step in your career,
"There's a history of great Black artists who come up for these awards and don't win. We all know their work is great because art speaks for itself," Lee said. "But then it always comes down to this tricky territory of validation. Do Black artists say: 'Fuck it'—or seek white validation and chase awards?"
In quintessential Lee fashion, he made his point even more clear, saying, "It's straight-up shenanigans, skulduggery, subterfuge. Or as the British say: It's some poppycock!"
Spike also had thoughts on the recent Oscars controversy, where Andrea Riseborough received a surprise nomination, as Deadwyler and Davis were left out of the Best Actress category. The Black actresses had been honored at several other events throughout awards season, while Riseborough's supporters ran a last-minute campaign, with some questionable social media posts. The fallout of this mess has led many to wonder why these Black women were forced to spend months schmoozing Academy members if they were always going to leave them out of the conversation.
"I'm happy Angela Bassett got nominated. I'm happy Ruth Carter—who for a long time was my costume designer—got nominated," he said. "It gets tricky when you get these award things. And the Academy has a history with…The Academy has a history, let's leave it at that. But the whole #OscarsSoWhite hashtag definitely made an impact. The Academy, to their credit, made changes to bring diversity to the voting body."
If anyone knows about the questionable whims of the Academy Awards, it's Spike Lee. After winning a Student Academy Award in 1983 and an honorary Oscar in 2016, he finally won an Oscar for Best Adapted Screenplay for BlacKkKlansman in 2019. Despite his awe-inspiring list of films, the writer/director was often considered too outspoken or controversial for the more traditional voters. He didn't get his due until younger, more diverse members were invited into the voting group.