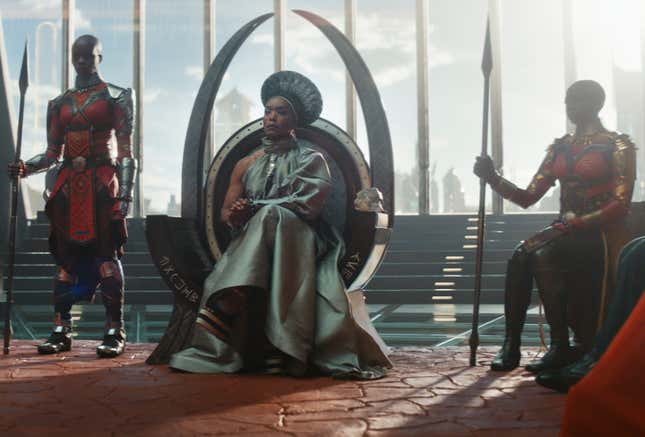 As you would expect, the internet had some thoughts on Tuesday's Oscar nominations and no one was afraid to let the world know how they felt. For the most part, it was joy and excitement for nominees Angela Bassett and Brian Tyree Henry. However, there was also a lot of disappointment and disbelief that Viola Davis and the entire team from The Woman King were left out of the awards.

2023 Oscars: Ruth Carter On Turning Angela Bassett Into A Queen Through Costume
Variety spoke with several nominees, including Bassett, who revealed that she and husband Courtney B. Vance did wake up early to watch the announcement.
"I was nervous because it was the first nomination," Bassett told Variety. "Like, give me a moment to wake up! Well, no. I was already awake for two hours, just tossing and turning. But I was shocked that it was the first nomination, so that made me nervous."
The 9-1-1 star also congratulated Everything Everywhere All at Once's Michelle Yeoh on her nomination for Best Actress, recalling that they co-starred in the action film Gunpowder Milkshake. She went on to shout out Henry, who she just appeared with on The Late Late Show with James Corden.
"Michelle Yeoh. Very excited to see her name. We worked together on this film called Gunpowder Milkshake a couple of years ago, another all-women film, four women kicking butt," the award winning actress said. "And Brian Tyree Henry. We were hanging out recently on one of the late-night chat shows. I just adore him as an actor."
As for Twitter, it is all or nothing where Wakanda's queen is concerned. If Angela Bassett doesn't win, you may want to stay off the internet for a few days, because it will be pure chaos.
One user made it clear that they would accept nothing less than a win, tweeting, "Ms. Angela Bassett is getting that Oscar, I do not care."
A movie fan tweeted out a meme highlighting some of Bassett's well-known roles in The Rosa Parks Story, Betty & Coretta, Waiting to Exhale and What's Love Got to Do with It.
Best Supporting Actor nominee Henry expressed his excitement in a joyful statement, where he also thanked the person who celebrated with him.

"AAAAAAAAAAHHHHHHHHHHHHHHHHHHHHHHHHHHHHHHHHHHHHH!!!!!!!!!!!!!!!! I am beyond honored to be nominated!!!!!" Henry said in a statement, per Entertainment Tonight. "And in such amazing company!!! I'm so grateful. And to the random man in the elevator who saw me scream at the news, thank you for hugging me and not freaking out!!!!!!"
Meanwhile, Twitter was beyond thrilled to see the actor finally getting some shine for his underrated talent.
Accompanied by photos of his various roles, author/film critic Rebecca Theodore-Vachon acknowledged Brian Tyree Henry's impressive acting range, writing, "I am so happy for Brian Tyree Henry. When we talk about range, Brian is THAT dude."
One Atlanta fan who hasn't seen the actor's nominated film yet, tweeted, "I haven't seen Causeway yet so for now I'll just pretend Brian Tyree Henry got nominated for that episode of Atlanta where he kills a feral hog with a cast iron skillet."
Of course, it wasn't all good news. The Woman King's complete shut out from the nominations had some fans ready to do battle with the Academy.
A Black Lady Sketch Show writer/star Ashley Nicole Black expressed her frustration about the film's lack of nominations, tweeting, "The Woman King was robbed in every category! Very excited for Everything Everywhere All At Once! Also this should be Angela Basset's 10th nom IMO. Brian Tyree Henry was SO GOOD in Causeway and I'm so happy for him. And The Woman King was robbed!"
"The Woman King shut out from awards season is truly a sight to behold. The film, director & actors gave us some of the best work this year," wrote activist Brittany Packnett Cunningham.
Buzzfeed's Nora Dominick summed up all our feelings, writing, "the woman king, danielle deadwyler for till, and nope getting snubbed basically this whole awards season is a choice…an interesting one."
Hosted by Jimmy Kimmel, The Oscars air live Sunday, March 12 on ABC.