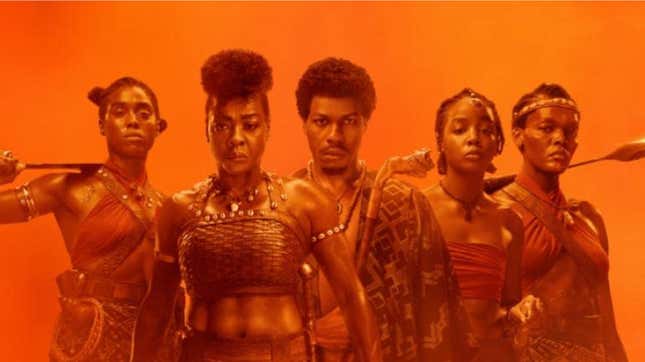 While there were many expected recognitions during the 2023 Oscar nominations reveal on Tuesday (looking at you Angela Bassett, Ruth Carter, Rihanna and Brian Tyree Henry), there were also a plethora of stunning upsets—chief among them, the lack of recognition for The Woman King.
In a shocking turn of events, there was not one single award nomination given to anyone from the Gina Prince-Bythewood-helmed film. Viola Davis, who is usually a shoe-in during awards season, saw no love in the Best Actress category despite previous nominations at the Golden Globes, SAG, NAACP Image, and AAFCA Awards. The whole squad of stellar supporting actresses and actors like Lashana Lynch, Thuso Mbedu, Sheila Atim, Adrienne Warren and John Boyega were also shut out. This is a frustrating trend that's been popping up time and time again this awards season. Prince-Bythewood was also nowhere to be found in the Best Director category which honestly begs the question: did we all watch the same movie?
Personally, I find it hard to believe and somewhat offensive that a story as rich, layered, and historically complex as The Woman King was shut out in its entirety. Cries against its glamourization of the intra-racial participation in the slave trade aside (because if you actually watched the film and didn't let the opinions of detractors online stop you, you would've seen that they actually addressed this), the film encompassed so much dimension and intricate storytelling it feels like a puzzling miss for the Academy—even given it's history of snubs. And if we're to say that that the sanitization of atrocities or historical inaccuracies of a fictional film warrant non-support from viewers, then I hope we're ready to apply this across the board to other white projects that have been inspired by moments in history that fall short of holistically depicting what actually happened. (Titanic anyone?)
What's also not lost on me is that this is a film starring deeply melanated Black women that's centered around their plight, both communally and personally. This is also a central point to the Danielle Deadwyler-led film Till, which takes a turn away from the expected depictions of Black trauma and instead refocuses on humanizing a Black mother in her quest for justice for her slain son. Hollywood has notoriously categorized films starring Black folks about Black folks as "hard to sell" both domestically and abroad despite the success of projects like Black Panther and others proving otherwise. But I suppose involuted films centering Black women were a bit too deep or too uninteresting for viewers and the Academy this year.
And while we're on the subject of snubs, I'd be remiss not to mention Ryan Coogler, who was also noticeably absent in the Best Director category (which is astonishing when you consider everything he and the cast had to deal with just to bring the long-awaited sequel to fruition.) Additionally, neither Black Panther: Wakanda Forever nor The Woman King received Oscar noms for Best Picture, though the latter did take home a win for that category at this year's AAFCA Awards.
I guess I shouldn't be surprised, but I can't help but to be. Blame it on the movie-lover in me, blame it on the "rooting for everybody Black" in me. But ultimately, we should blame it on the Academy because these are some hella interesting misses on their part and for that—they ought to be ashamed.