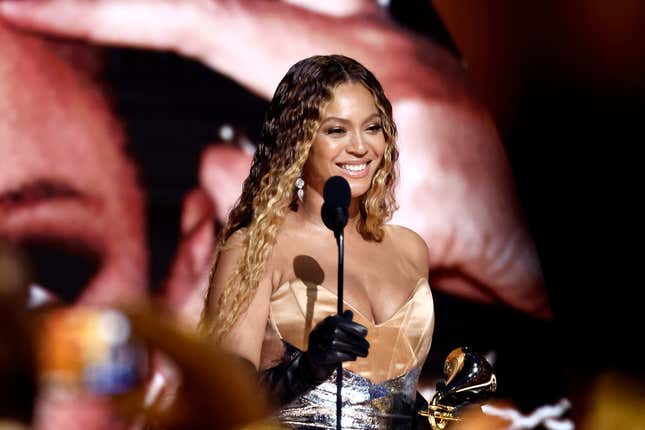 Well, that was certainly a choice from the Grammys. After spending all night showcasing Black artists, and with almost everyone in the room awed by her presence, the Recording Academy hit us with a last-minute swerve when Beyoncé didn't win Album of the Year for Renaissance. That honor went to Harry Styles for Harry's House.

Black Musicians Are Not A Monolith: Bartees Strange Discusses Anti-Blackness In The Industry
Before we get into the real issues surrounding this award, it's important to note that this isn't about Harry Styles. I like Harry. I think he's a very talented artist. However, Renaissance was the Album of the Year. And based on his acceptance speech, he was well aware of the shit he was just pushed into by the Academy.
"I feel like on nights like tonight, there is no such thing as 'best in music,'" Styles said. "I don't think any of us sit in the studio making decisions based on what's gonna get us one of these."
Maybe he genuinely feels like art shouldn't be a competition—and if so, he has a point. But the people who usually get to make these declarations are the people who win. Yes, Beyoncé won four awards at the 2023 Grammys. Yes, she now holds the record for the most Grammy wins in history. But of those 32 wins, only one has come in one of the major four categories. She won Song of the Year for "Single Ladies (Put a Ring on It)" in 2010. Her albums are consistently nominated for Album of the Year and her impact on the entertainment industry is immeasurable, but the Recording Academy seems determined to keep her in the R&B and Dance categories.
Perhaps this whole debate is summed up in the frustratingly honest comments from voters in a recent Variety article. The story features anonymous voters explaining their Grammys ballots, with a lot of them complaining about the choices being from TikTok. One voter, who is described as "A music business veteran in his 70s" has some harsh, yet unsurprising opinions about the "Cuff It" singer. "With Beyoncé, the fact that every time she does something new, it's a big event and everyone's supposed to quake in their shoes—it's a little too portentous," the voter said.
So you're punishing her because she's too successful? Great. Black women are criticized when they don't do enough, but also aren't allowed to be too successful. Well, if we can't win, I guess we should just do whatever we want and let the haters sit around feeling mad about how badass we are.