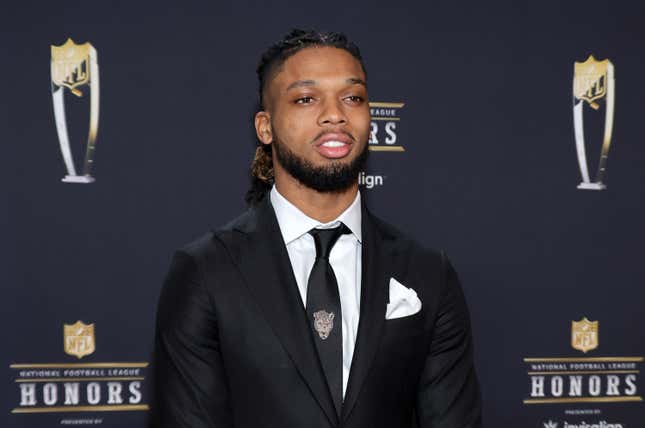 As the football season winds down, the NFL handed out its annual awards on Thursday night. The event offers players a chance to cut loose and have fun after they've spent the season trying to destroy one another.
To the surprise of no one, superstar Kansas City Chiefs quarterback Patrick Mahomes was named the MVP. Per ESPN, he received "48 of 50 first-place votes," with Philadelphia Eagles quarterback Jalen Hurts; Buffalo Bills quarterback Josh Allen; and Cincinnati Bengals quarterback Joe Burrow coming in second, third and fourth respectively. Mahomes is the first Black QB to win multiple MVP awards. He is preparing to lead his team into Super Bowl LVII against Hurts and the Eagles, so he accepted the award in a video message where he thanked his family and teammates for their support.
"I would never be standing here today without y'all," he said. "Every day, giving everything we have together to go for the ultimate goal: the Super Bowl. Let's continue to go for that dream this weekend."
One of the most prestigious honors of the year went to Walter Payton NFL Man of the Year winner Dak Prescott. The Dallas Cowboys quarterback was recognized for his charitable work. His Faith Fight Finish (FFF) Foundation, "focuses on colon cancer research, mental health and suicide prevention, bridging the gap between law enforcement, youth and the communities they serve, and offering assistance to those facing life-challenging hardships," per CBS Sports. During his acceptance speech, Dak thanked the Cowboys organization, his foundation's staff and his family, taking a special moment to acknowledge his late mother.
"My foundation work means the world to me. I have to thank the people that are doing well to help me start this foundation," Prescott said. "Now mostly I want to acknowledge the person who has had the biggest influence on my life, my mother, Peggy. My mother was and still is my moral compass. Through my own charitable contributions I seek to share her strength and courage with the world."
One of the most beautiful moments of the night came when the medical team and training staff that saved Buffalo Bills safety Damar Hamlin's life were recognized for their amazing effort. After a well-deserved standing ovation, Hamlin joined them on stage and reflected on how his life has a new purpose.
"Every day I am amazed that my experiences could encourage so many others across the country and even across the world," Hamlin said. "Encourage to pray, encourage to spread love, and encourage to keep fighting no matter the circumstances. Sudden cardiac arrest was nothing I would have ever chosen to be a part of my story, but that's because sometimes our own visions are too small even when we think we are seeing the bigger picture. My vision was about playing in the NFL and being the best player that I could be, but God's plan was to have a purpose greater than any game in this world."
While Mahomes and Hurts show off their skills on the field, Prescott will be recognized before the big game, along with the 2023 Pro Football Hall of Fame inductees.
Super Bowl LVII airs live Sunday, Feb. 12 at 6:30 p.m. ET/3:30 p.m. PT on FOX. The network's coverage kicks off with Super Bowl LVII Pregame at 1 p.m. ET/10 a.m. PT.
2022-23 NFL Awards:
MVP: Patrick Mahomes - Kansas City Chiefs
Offensive Player of the Year: Justin Jefferson - Minnesota Vikings
Defensive Player of the Year: Nick Bosa - San Francisco 49ers
Coach of the Year: Brian Daboll - New York Giants
Assistant Coach of the Year: DeMeco Ryans - San Francisco 49ers
Comeback Player of the Year: Geno Smith - Seattle Seahawks
Offensive Rookie of the Year: Garrett Wilson - New York Jets
Defensive Rookie of the Year: Sauce Gardner - New York Jets
Walter Payton NFL Man of the Year: Dak Prescott - Dallas Cowboys