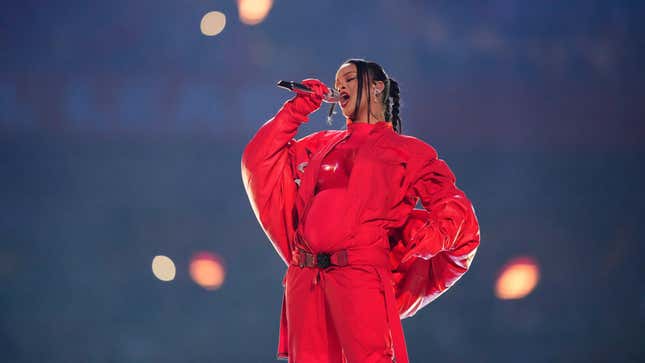 Though Rihanna's Super Bowl 57 halftime show performance was nearly two weeks ago, it's still causing a stir. At first, there were complaints about her not dancing enough and having a lackluster set—even though the star was singing while pregnant with her second child. Now it looks like the trolls are claiming that the ANTI singer was too sexual.
Superhoe and Mood's Nicôle Lecky Plays That's So Random
The Hill has reported that the Federal Communications Commission (FCC) received 102 complaints about the State Farm Stadium show. Some of the grievances stated that there was "inappropriate touching and dance moves, very raunchy for a family to watch."
Another viewer griped: "Little kids do not need to see this" while yet another said that Rih's "sexualization" and "genital grabbing" was "far too inappropriate for a family sport event." One person wrongly identified Rihanna as Shakira (???) but insisted that it was wrong for her, as a pregnant woman, to "[pump] her pelvis while holding her crotch."Last but not least, someone else stated: ""I will NOT watch this again next year if this is how you are going to disrespect our nation."
Were these people watching the same show as everyone else? Rihanna was fully covered and looked gorgeous while belting out her biggest hits in an Arizona stadium while expecting. This performance was, quite frankly, pretty toned down for the Barbados native, yet was still subject to unwarranted scrutiny.
Can Black women ever win?
Rihanna's gracing the halftime stage drew in 118 million viewers, so 102 FCC complaints is minuscule compared to all of the people who actually watched. However, it's just another example of the hoops people will jump through to chastise Black women. Let the haters stay mad: Rihanna is scheduled to perform at the Oscars next month.