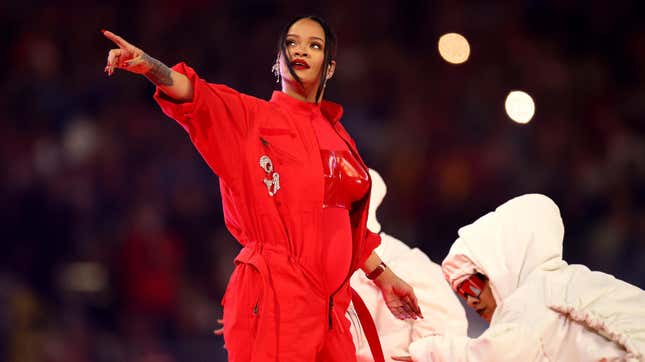 On Sunday, Rihanna made her long-awaited return to music, taking the stage as the 2023 Super Bowl Halftime Show performer—only this time, she brought a special guest along with her: a second child.
Dripped down in an all-red ensemble, including a patent leather looking bustier, body suit and a strategically zipped down flight suit—which sparked pregnancy speculation immediately online—she opened her set with "Bitch Betta Have My My Money," accompanied by countless dancers donned in white jumpsuits on multiple stages.
Following the 2015 hit, she then went into "Where Have You Been," "Only Girl In the World," "We Found Love," "Rude Boy," Work," "Wild Thoughts," "Pour It Up," "All of the Lights," "Run This Town," and "Umbrella," before closing with "Diamonds." Noticeably missing were any of her musical collaborators most folks speculated would show up like Jay-Z or DJ Khaled, any new music or an announcement of a new tour.
But what didn't go missing by keen-eyed fans was Rih's belly which folks online noted was a bit protruded and rotund during her performance, seemingly pointing to the fact that she might be with child for the second time. Most fans pointed also pointed our a move she did at the very beginning of the performance where she appeared to rub her belly as if to signify her potential pregnancy.
The news that Rih was, in fact, with child, was later confirmed by a representative for Rih by both the Rolling Stone and The Hollywood Reporter. As previously reported by The Root, the "Disturbia" singer gave birth to a baby boy back in May 2022. Looks like that incognito belly rub and her giant smirk at the beginning was the biggest clue she could've ever given us. Welcome back Rih! Here's to another happy and healthy pregnancy.