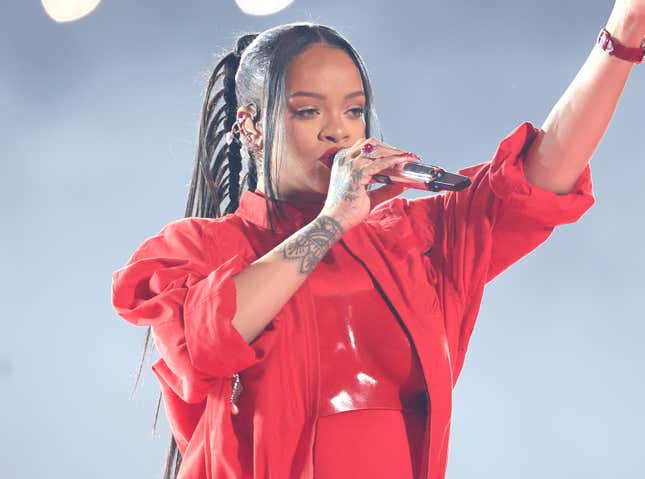 With most of the world expressing an overwhelmingly positive reaction to Rihanna's Super Bowl halftime performance, some viewers had interesting thoughts on the show. Everything from the production set up, to the set list, to her surprise pregnancy reveal was the subject of conversation throughout Sunday night.

Killing Eve and Cruella Star, Kirby Howell-Baptiste, Plays That's So Random
Perhaps the best reaction to the Oscar-nominee's show comes from her boyfriend A$AP Rocky, who could be seen proudly watching her show-closer, "Diamonds.
You know you're a queen when other superstars stop to recognize your greatness. During her set, social media was full of celebrities expressing their love for the Oscar-nominee.
Record-breaking SOS artist SZA tweeted, "The HITS RIH HAS ARE UNFUCKITTABLE . Low key endless . So inspiring !"
Tennis star Naomi Osaka, who recently announced her own pregnancy, wrote, "Hits after hits, Rihanna bowl really didn't disappoint."
The NBA's newly crowned all-time leading scorer, LeBron James, recognized the Savage x Fenty mogul's impressive collection of hits, tweeting, "Rih got so many killer tracks!!!!"
So About Those Stages…
Some fans were worried about her safety on the floating stage, with one user tweeting, " that shit started wobbling i would've told them the put me down."
Another message noted the unique set up, but still had issues with its safety, writing, "Rihanna's half time show was super cool too but I saw those platforms wobbling and that's a nope from me."
Congratulations
As happy as they are for RiRi, some fans can't help feeling like their hope of new music was just snuffed out by the singer's happy announcement. One person tweeted, "Me realizing Rihanna is pregnant again, and we're never getting another album."
Meanwhile, another fan let their emotions out by tweeting, "So, Rihanna is pregnant which means we'll never get new music."
We Can't Have Nice Things
Of course, it can't be all good news on the internet. Some viewers didn't enjoy Rih's low key, no frills performance. One person wrote, "im just gonna say it, rihanna's performance was boring!"
Another viewer didn't think the execution matched the anticipation, writing, "It was cute but lackluster. It wasn't giving me anything close to the hype it generated."
Under normal circumstances, I'm all for everyone giving their unique opinions but these people are just wrong. It was cool to see her rely on the music instead of all the bells and whistles that some artists use. The floating stages were enough of an attraction.
And just in case you got all caught up in the music and forgot that our girl is a bonafide billionaire, she stopped mid-show to reapply her Fenty powder and remind us that "she's a business woman."