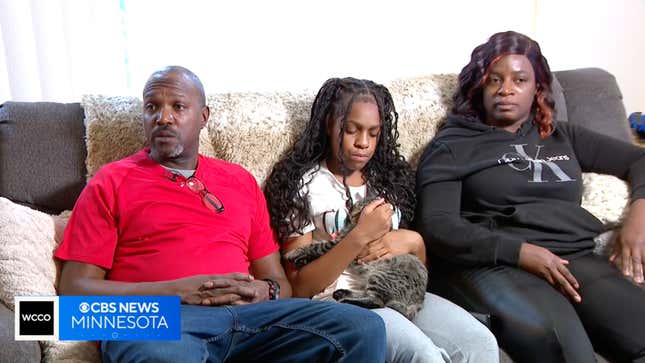 When this Minnesota couple packed up their life and moved away from the city to the suburbs, I'm sure they didn't expect their new home to be decorated with racist vandalism. Now, the cops are looking for the culprit who keeps returning to their home to paint offensive images.

Comedian London Hughes Talks New Book, Parents Watching Her Very Sexual Comedy, & Beyoncé
Natosha Jackson and Jay Franklin and their daughter moved to North Branch, a city of over 11,000 people with a Black population of less than one percent. Since moving, the family told WCCO settling in to their new place hasn't been the best adjustment because of a recurring racist graffiti issue.
A unkn own vandal has targeted their home twice. Once, they woke up to a white supremacist symbol. Another time, they witnessed a lynching threat of the sorts - a hangman drawing with the letter "J" (Franklin's first initial) next to a racial slur.
"That made me look like somebody knew me or somebody kind of targeted me. I just kind of felt like that was crossing the line. That was just a little too much," Franklin told local CBS News.
Neighbors volunteered themselves to help power-wash and repaint their home. Some have even brought flowers and letters of support, recognizing the clear racial attack the family has endured.
As Franklin says, the concern isn't really about the images themselves but what they could possibly escalate into. The police encouraged the family to install security cameras to possibly catch the crook in action.
In 2021, 238 bias-motivated incidents were reported in the state. The number consistently rose, per the state Bureau of Criminal Apprehension. However, that doesn't account for the incidents that aren't reported or the ones that haven't been categorized as a hate crime by the authorities.