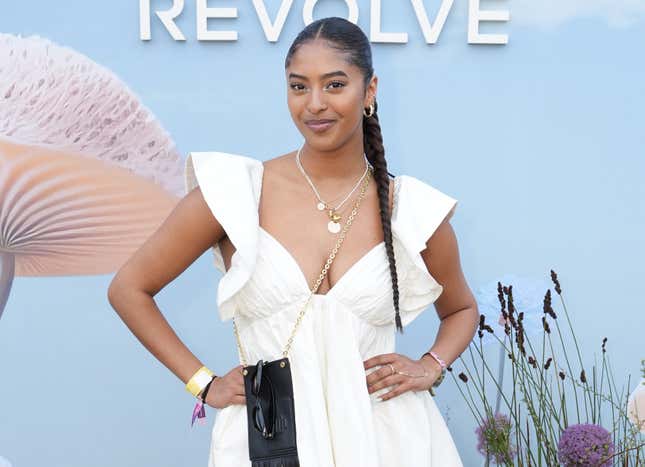 When I was in college, I interned at a local news radio station. I copied scripts, monitored the murdery mystery show the station aired and showed older producers and DJs how to do research on the internet. I learned a lot, but I can't claim it was a super fun experience. Clearly, Natalia Bryant made a better choice than me. Social media was buzzing on Wednesday when Twitter user Zara Rahim posted screenshots of the credits for Beyoncé's Renaissance tour, and Bryant was listed as an intern for the Grammy-winner's Parkwood Entertainment.

Music Producer & Beyoncé Collaborator, Dixson, Plays That's So Random
The oldest daughter of Kobe and Vanessa Bryant is currently a sophomore at the University of Southern California. Natalia has previously worked as a model for the "Cuff It" singer's defunct clothing line Ivy Park x Adidas. In the past, Natalia and Vanessa have been seen in photos with Bey, with the intern sending birthday wishes to her future boss, writing, "Happy Birthday Auntie BB." Of course, "Auntie" is a term of endearment in the Black community, so this doesn't mean they have a close relationship.
Though we don't know exactly what Bryant's Parkwood internship entails, I'm going to guess that like most interns, she spends a lot of time on coffee and lunch runs. There's probably also a lot of sorting through fan mail and social media posts. Normally, this kind of thing riles up the internet, but this time, they seem to be firmly in Natalia's corner.
One user replied to the original post, tweeting, "If I were a nepo baby I would utilize the forces that is my last name to get me an internship with Beyoncé and/or do what Malia is doing with Donald glover." Honestly, they're not wrong.
One user showed their enthusiastic support, tweeting, "The nepotism we live for. Give those kids EVERYTHING They deserve."
Another Twitter user urged people to be understanding before they start to criticize, writing, "She can't help that she's Kobe's daughter. What is she supposed 2 change her last name? I think not. These kids lives have never been the same. Leave them alone."
In March, while honoring her father at his hand and footprints ceremony at the TCL Chinese Theater in Hollywood, Calif., Natalia revealed that she and Kobe bonded over their shared love of movies. It's one of the reasons why she's pursuing a career in film. If she really wants to work in entertainment, learning from an entrepreneur like Beyoncé is a dream opportunity.