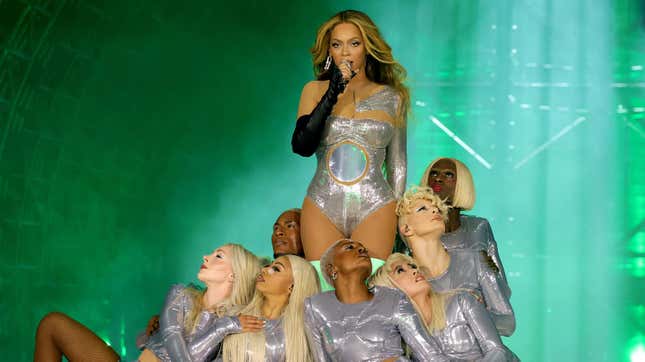 World stop: after months of waiting Beyoncé's Renaissance World Tour has officially kicked off.
Abbott Elementary's Emmy Award-Winning Sheryl Lee Ralph Plays That's So Random
The "Alien Superstar" singer performed two nights in Stockholm, Sweden, (May 10-11) marking the first two stops on her international tour. Fans all around the world were waiting in anticipation to see what kind of show Bey would bless them with and I'm happy to report, she BROUGHT THE HOUSE DOWN. Let's get into it.
What Songs Did She Perform?
Divided into seven parts, the Queen Bey naturally performed all the songs off her Grammy-nominated 2022 album. But she also belted out a plethora of songs from her discography and others such as "Dangerously In Love 2," "Flaws and All," "1+1," "I'm Goin' Down" (Mary J. Blige cover), "I Care," "Lift Off" (Jay-Z and Kanye West cover, "Formation," "Diva," "Run the World (Girls)," "My Power," "Black Parade," "Savage" (Remix), "Partition," "Get Me Bodied," "Before I Let Go," "Rather Die Young," "Love On Top," "Crazy In Love," "Love Hangover" (Diana Ross cover sung by choir), "Naughty Girl," and "Drunk in Love."
Bey also interspersed snippets and lyrics of some of her older songs such as "Sweet Dreams," "Say My Name," "Kitty Kat," "Signs," "Dance For You," and more.
What Outfits Was She Wearing?
According to Page Six, the "Thique" singer was dripped down in designer, as per usual when it comes to her performances. She began the night in a dazzling silver and black Alexander McQueen catsuit before later transitioning into a white bell-sleeved Anrealage dress that transformed into a multi-colored stained glass looking design when under a certain lighting.
Later in the show, she donned a silver custom Courrèges body suit, a pearl-embellished Balmain bodysuit, a flesh-toned, sparkly trompe l'oeil Loewe catsuit with black arms covering up the umm..important parts, a black and yellow bee-inspired Thierry Mugeler get up, and an iridescent minidress by David Koma.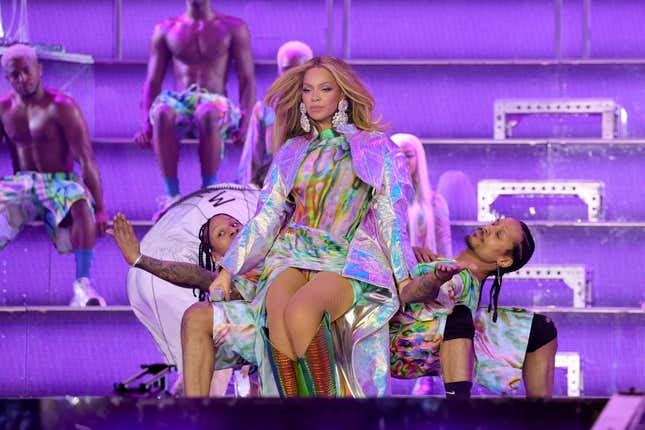 Was She Really Injured?
If you weren't on Twitter the day multiple fans were live-tweeting the show (a show they were watching via loyal fans Instagram Lives), then you may have missed a myriad of folk commenting on the fact that Bey seemed to be dancing way less than she usually has in the past. Even a reporter from The New York Times who was there in-person picked up on it, too, and said as much in his review.
Per The Daily Mail, let loyal BeeHive members tell it: the "Break My Soul" singer had reportedly suffered a foot injury and had recently had surgery, though no one from Bey's camp has officially confirmed or denied that that's really the case. Regardless, as someone who also watched most of the show via Instagram this week, I, too, noticed that she wasn't hitting the choreography as hard nor was her iconic strut during the opening sounds of "Crazy In Love" as powerful as it had been. I personally chalked it up to her maybe reserving her energy since she had over 50 more tour stops to make, but an injury could definitely make sense.
Who Did She Enlist for Dancing and Music Direction?
As noted by Distractify on Thursday, Bey's longtime dance captain Ashley Everett, was noticeably missing on the first two stops. Fans who attended that night also confirmed she wasn't present, which is odd considering she's always at Bey's right hand during major performances.
What's also odd is that Everett posted a video two weeks before the Renaissance Tour was expected to begin about getting a callback for another gig, which sent fans in a tizzy in her comments with many wondering how she had time to take on another project when this massive tour was set to begin.
Of course, the simple answer could be that Everett just could not be performing on European leg of the tour and is just waiting to join Bey when she crossed the pond back over to North America. The other answer could be that they've indeed parted ways. We don't really know at this point.
But what we do know is that legendary dancer Fatima Robinson has been brought on at the Director of Choreography for the Renaissance Tour. Robinson is the same person who received an Emmy nomination last year for Outstanding Choreography for Variety or Reality Programming for Bey's performance of "Be Alive" at the 2022 Oscars. We also know that popular and super talented producer and filmmaker Amorphous has also been brought on to lend his talents to the Queen's musical direction.
"Thank you @beyonce for allowing me to be part of your legacy with this tour," he wrote in a tweet sharing the news after the first night's show. "Thank you for inviting me into your creative space. thank you for trusting me. this was always my biggest dream. thank y'all for believing in me. played a part in my first tour ever with THE GREATEST."
As the tour continues to unfold, I have no doubt more goodness will be revealed. Us U.S. folks just have to hold our horses (ha!) until she touches down in July.