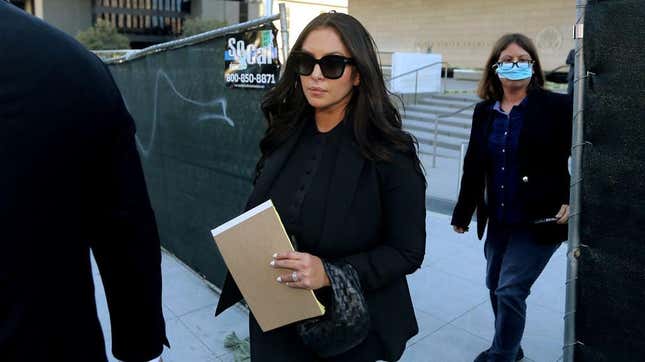 It's been more than three years since the shocking death of Los Angeles Lakers legend Kobe Bryant and his daughter, Gianna. Even though their deaths are something most people will never get over, especially his wife Vanessa Bryant, hopefully, the process of healing and grieving can finally begin for Kobe's widow and family.
Here's How Medicaid Expansion Can Play A Role In Black Maternal Healthcare
On Tuesday, Vanessa finally reached an agreement with Los Angeles county to settle a lawsuit over gruesome photos that were taken and shared at the crash site, where her husband and daughter died. As a result, she will take home $28.85 million, according to CNN.
This settlement comes nearly six months after a federal jury awarded Vanessa $16 million for her family's suffering over the distribution of photos from the helicopter crash in a civil trial, although the payment was later reduced to $15 million, according to the New York Times.
The jury found the Los Angeles County Fire and Sheriff's department liable for infringing on Vanessa's constitutional rights. Ironically, that verdict came down on Aug. 8, better known as #KobeDay. All of the money she was awarded she gave to charity.
The counsel for Los Angeles County, Mira Hashmall, said in a statement, "The $28,850,000 settlement includes the verdict awarded by the federal jury in August 2022, and further resolves all outstanding issues related to pending legal claims in state court, future claims by the Bryant children, and other costs, with each party responsible for its respective attorneys' fees."
Vanessa and her attorneys originally filed the lawsuit in September 2020, where they accused L.A. county of multiple things including privacy invasion, negligence, and emotional distress. It was found that law enforcement took photos of the grim crash site and shared them across 28 devices in the Sheriff's department and fire department.
According to CNN, the photos were not just of wreckage from the helicopter, but also detailed photos of the mangled bodies that were killed in the crash, which included Kobe, Gianna and seven others.
Now, after months of legal proceedings, Vanessa, and her three daughters, Natalia, Bianka, and Capri, can begin to move on with their lives and not have to deal with the mental anguish this case brought on.