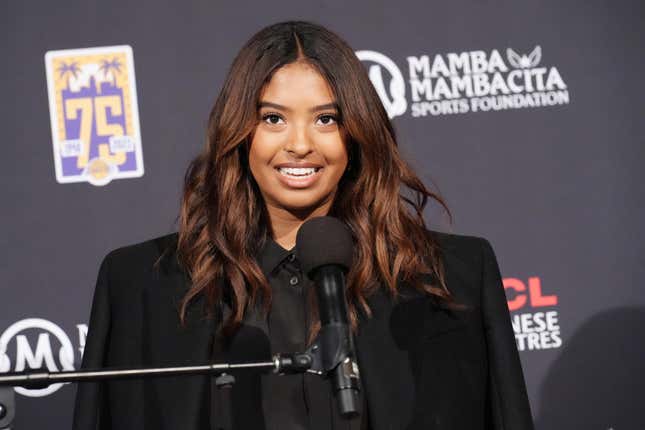 Nearly three years after his tragic death in a helicopter crash, the city of Los Angeles bestowed one of its biggest honors on Los Angeles Lakers legend Kobe Bryant. On Wednesday, his hand and footprints were unveiled at the world famous TCL Chinese Theater in Hollywood, Calif. His wife Vanessa Bryant and their daughters Natalia, Bianka and Capri all attended the ceremony. The couple's 13-year-old daughter Gianna was killed in the crash alongside her father.

Courtney B. Vance in Heist 88 Is Our Black TV Pick of the Week
At the ceremony revealing Kobe's hand and footprints, his oldest daughter, Natalia Bryant, honored her father with a moving speech about how committed he was to his family.
"While most people knew him as a basketball player or a storyteller, I got to know and love him as my dad," Natalia said. "And let me tell you, he is the MVP of girl dads, to say the least."
Despite his grueling schedule as one of the best players in the NBA, she explained that he made it a priority to attend as many of his girls' events as possible.
"Being his daughter is one of the greatest joys of my life, and I hope to continue to embody and cherish the many lessons he has taught me," she continued.
Natalia is pursuing a career in film, contributing her decision to the time she and Kobe spent watching franchises like Star Wars, Harry Potter and the Marvel Cinematic Universe.
"The reason behind it is I watched all of these movies with my dad," she said. "Each of those memories I will never forget. He is the reason I'm pursuing film in college. And he is the reason film has inspired me to create memories like ours, for other people to even bring more fathers and daughters together like us."
No other athlete has ever had their hand and footprints displayed at the theater. But, Kobe means something special to LA and he's an Oscar-winner, so it makes perfect sense that he would be the first.
"As you visit here for years to come, I encourage you to place your hands in his and take a moment to stand in his shoes," Natalia said. "This will be a treasure for the city of Los Angeles and my dad's fans from all over the world to hold and to cherish."
"It is only fitting that my dad, Kobe Bryant, is the very first athlete to get their hand and footprints displayed here," she added. "This day symbolizes the impact that he has had on a city that he loved and cared for so deeply. Now as I've gotten older, I continue to see the impact he had on those around him and the inspiration he has brought so many. … Dad, you are an icon, a legend, a storyteller, and most importantly the best girl dad any young woman could dream of."
Kobe Bryant's hand and footprints will remain on permanent display at the TCL Chinese Theater in Hollywood, Calif.