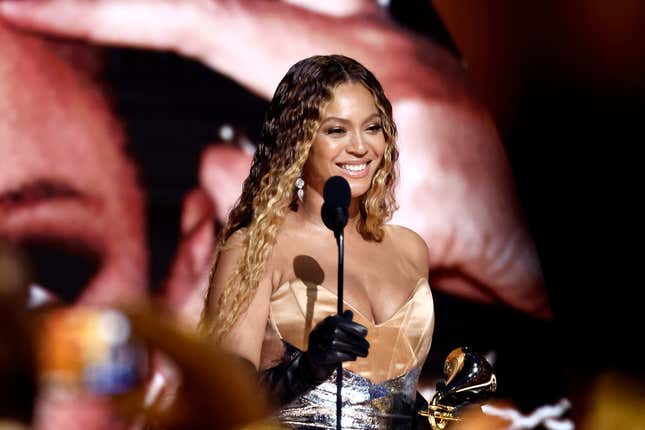 Beyoncé doesn't take a lot of L's. That's why when she does inexplicably suffer a loss, it becomes big news. One of her ventures that has failed to reach the Queen Bey level of success is her Ivy Park activewear line with Adidas, and now it appears the Grammy winner and shoe company have decided to move on from the line.

According to The Hollywood Reporter, its sources say the parties have "mutually agreed to part ways." The split was reportedly caused by "major creative differences between Ivy Park and Adidas." The "Cuff It" artist is "excitedly looking to reclaim her brand" and "maintain creative freedom."
As previously reported by The Root, in February, the Wall Street Journal noted that Ivy Park's sales were down and Adidas was losing money.
"Sales of Ivy Park tumbled by more than 50% to about $40 million in 2022—coming in below internal Adidas projections for $250 million in sales that year, documents reviewed by The Wall Street Journal show. The documents show Ivy Park has been losing money for Adidas and Beyoncé gets about $20 million in annual compensation."
When a collaboration like this fails, everyone wonders who's to blame. Is it on Adidas for not marketing the products enough? Or is it on Beyoncé for not understanding the appeal of her brand? Normally I would never blame Queen Bey for anything, but Ivy Park never quite felt like it matched her public persona. The girl from Houston might be all about stylish tracksuits and sneakers, but Beyoncé, the global megastar, doesn't put out that vibe. From a fan perspective, you trust brands when they align with someone's area of expertise. It's why athletes sell sneakers and chefs sell cookware and food products. Rihanna became famous for the sex appeal of her music, which is why Savage x Fenty and Fenty Beauty make perfect sense.
As usual, Beyoncé is already ahead of the rest of the world since she and designer clothing company Balmain revealed the Renaissance Couture collection on Friday. It is described as "A one-of-a-kind couture collection directly inspired by the global hit album and co-created in collaboration with the muse herself."
Obviously, none of us real people will be able to wear or afford these clothes. But at least Bey has found the right space for her brand.