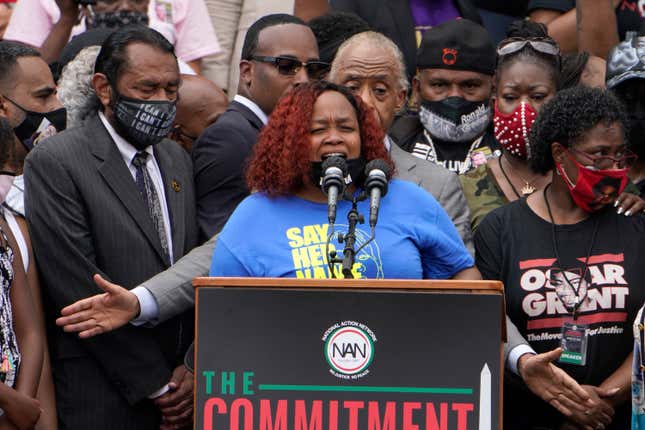 The mother of Breonna Taylor, Tamika Palmer, shared her response to the news that her daughter's shooter, ex-cop Myles Cosgrove, had moved on to work for another policing agency. Palmer told CNN she was worried for the county residents who will now know Cosgrove as their new sheriff's deputy.

Feds Charge Four Officers In Breonna Taylor Death, Allege A Conspiracy To Mislead
Cosgrove was fired from the Louisville Metro Police Department after being accused of violating the use-of-force policy after firing 16 rounds at Breonna Taylor during a botched raid in March of 2020. Palmer said she wasn't given a heads up about his new job but was disappointed to find Carroll County found him fit for hire. Cosgrove's attorney, Scott Miller, told CNN he didn't want the controversy of Cosgrove's new gig to diminish the seriousness of Taylor's death but insisted his client had a "hard road" toward trying to support his family.
"To say you had a hard road is insane to me. Breonna's not even here," Palmer said. "I can't understand why you would want this type of person to work in your department. I'm scared for the people of Carroll County."
Taylor's family attorney, Lonita Baker, said Miller's words were an attempt to eliminate Cosgrove's responsibility in the murder. The ex-officer managed to escape criminal charges after Attorney General Daniel Cameron refused to charge him or his colleagues in the killing. So as it stands, the law says he's innocent.
Though, Palmer and Baker believe his actions are nothing short of criminal.
"He was fired for violating police protocol and for him not to lose his certification, and to be able to police in another city is completely asinine," Baker said. "The people of Carroll County should be alarmed. They are in danger because this is a man, who said in his own statement, he blanked out. And in response to blanking out, he fired 16 rounds. That's reckless behavior."