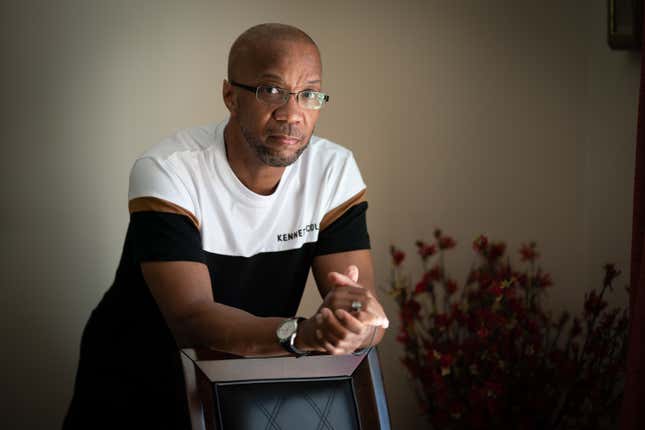 Gun violence is everywhere in the news. It seems like we can't glance at our phones without an alert of another horrific mass shooting. But what happens once the cameras go away and the victims begin their long road to recovery? Especially in cases where the survivor is Black, it seems like we rarely get a full look into the aftermath of gun violence, which is what makes Antonio Harris' decision to speak out about surviving a sniper attack so meaningful.
Small Town Horror Story: The Vietnam Veteran Who Refused To Leave A Man Behind
Nearly a year to the day after a sniper opened fire outside of the Edmund Burke School in Washington, D.C., one of the survivors, a Black security guard on duty that day, has decided to share his recovery story.
No one expected someone to start shooting in one of the wealthiest neighborhoods in D.C., including Harris, who'd spent 26 years as a police officer. But when bullets began to rain down from a rooftop sniper, he snapped into action. Harris rushed to get the children into the building even after he'd been shot in his rib cage. Four people, including Harris, were shot, and the retired officer was eventually rushed to the hospital with injuries so severe his trauma surgeon told local news reporters that he was the most "gravely injured patient" he'd ever seen. He was given a 50-50 chance of making it.
But he survived.
In an interview with the Washington Post a year later, Harris recalled walking up in his hospital room after spending five days in a medically induced coma."When I woke up, I was hoping that I was living a nightmare," Harris said.
He was unable to walk or drive, and he wasn't sure if he ever would be able to again. "I would look at people and think they don't know how lucky they are because what you think is a given can get snatched away from you like that," he said in the interview.
After seven weeks and several surgeries, Harris returned to his home in Upper Marlboro, Maryland. But his recovery wasn't easy. He'd lost a kidney, meaning he required twice-weekly dialysis.
However, through therapy and community, Harris made an incredible recovery. On Friday, he plans to return to Edmund Burke for a ceremony marking the first anniversary of the shooting. And the following week, he will return full-time as a security guard at a different private school.
"I know my eyes will be completely wide open. I know I will be more extra observant of every damn thing of my surroundings," Harris told the Washington Post. "I know I'm not ready to quit. I know I'm not ready to live my life being paranoid."