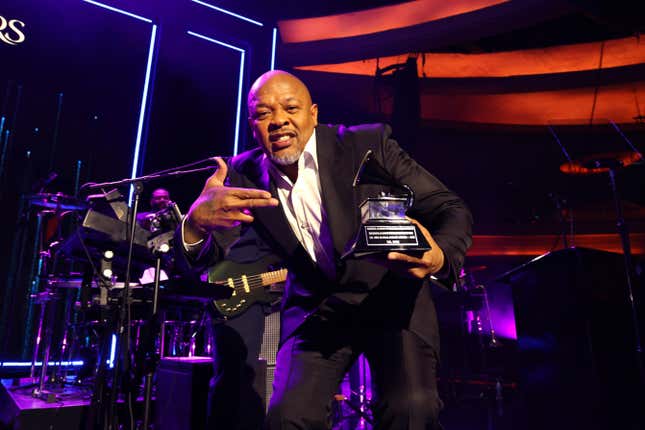 In a past life, when I was a lowly social worker living in Phoenix, I used to dream of days like this. But now, nearly a decade removed from working with at-risk youth in the scorching Arizona desert, the glamor and glitz of Hollywood are very much a part of my everyday life.
Grammys 2022: 10 Black Artists Who've Won Album of the Year
As Senior Editor of this very publication, outside of working with our writing staff, that entails spending an ungodly amount of time either taking meetings, combing through emails, or hobnobbing with execs, publicists, studios, entertainers, and pretty much everyone else involved in the entertainment industry in order to facilitate the relationships that allow The Root to continue to thrive. Interviews, exclusives, and other opportunities don't manufacture themselves, so acting as an emissary is an important part of the job—especially in a city like Los Angeles.
That being said, there isn't a day that goes by where an inquiring mind doesn't ask, "What's it like to go to the Emmys?" or "Is [insert really popular singer here] really that big of an asshole?" So for the sake of the culture, over the past week, I fell on the sword and opted to not only forgo sleep, but to sacrifice my health—as well as what remains of my sanity—in order to share with y'all what the pure chaos of Grammy Week is actually like.
You're welcome in advance.
What the hell is Grammy Week?
I'm glad you asked! Every year, in the week leading up to the Grammys, my beloved Los Angeles descends into a cesspool of chaos and depravity in order to celebrate "music, its stars and a certain gramophone-shaped statue". In layman's terms, that means there are literally dozens of high-profile events every damn day—from listening parties, to exquisite galas and award ceremonies, to invite-only showcases and performances, to all types of super exclusive, top-secret shit—at all hours of day and night. It's a lot, and only the strong survive—kind of like This Is Us.
Yo, this sounds amazing!
What are you? Like 19? Okay, sure. I love to have a good time like everyone else—preferably involving garlic butter and Dungeness crab—but a full week of non-stop parties and concerts and panels and COVID (oh, you thought he wasn't pulling up?) and whatever the fuck else becomes a miserable experience a few days in—especially since some of us have to actually work the next day. But if you've ever been to SXSW, it can get that crazy. For real.
Okay, so is there an actual method to all this madness?
Yup. With all of Western Civilization in town, Grammy Week is the perfect opportunity to either expand your network, promote your work, or solidify your irrefutable status of being the absolute shit—as evidenced by Smokey Robinson and Berry Gordy being named MusiCares' 2023 Persons of the Year. (SPOILER WARNING: More on that later.)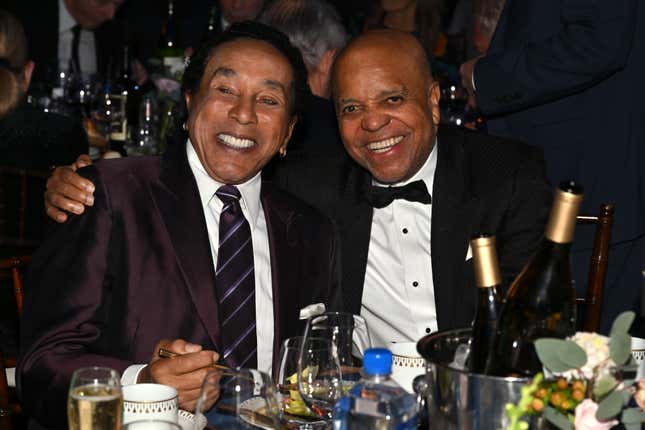 Ummm, this still sounds amazing! So how do I actually attend these events?
An overwhelming majority of the really dope shit is invite-only. As in, if you're foolish enough to pull up uninvited, you'll absolutely get your ass embarrassed. That being said, there are still plenty of other events going on that are easy to find and equally as dope—just not necessarily "high profile". A perfect example of this is the Hip-Hop Caucus' Basement Series, which took place Thursday night. It not only featured a performance by the criminally underrated India Shawn but my homeboy Amorphous provided the vibes while former Danity Kane singer Dawn Richard explored advocacy issues with actress and transgender rights advocate Angelica Ross. And did I mention this was free?
Got it. Okay, so is this the part where you tell us about your Grammy Week? Or…
Sure. Why the hell not?
As a seasoned veteran of all things glamorous and unsavory as it pertains to Grammy Week, it's important to remember that it's a marathon, not a sprint. So in my efforts to preserve both my health and sanity, I kicked things off on Tuesday—instead of the night before—and attended something I felt would be equal parts low-key and rewarding: an intimate showcase introducing an 18-year-old artist who could very well be the next big thing.
Co-signed by the ubiquitous Quality Control Music, Miles oozes the type of effortless talent that's just as unfair as it is undeniable. And in speaking to him before he shared songs like "Say the Word," his breezy ode to a teenage love affair, to a room full of industry heavyweights, the Atlanta native calmly revealed that this was his in fact his first showcase. As in, ever.
And as someone who has aspirations to provide "the soundtrack for people, especially Black men, who want to express themselves, but don't always have the words to do so," I wouldn't be surprised at all if Miles eventually blossoms into the shepherd of a new era of Black music. If the Grammy-winning gospel of Steve Lacy is your ministry, definitely check this kid out.
(There's also a hilarious story about chopping it up with Quality Control co-founders Pee and Coach K, who were singing fellow QC signee Lil Yachty's praises—specifically in regards to his recently released "departure record," Let's Start Here—but between the loud music and Pee's measured tone, I mistook "Yachty" for "yadda" and it took me entirely too damn long to realize who the hell they were talking about. But those are two super solid dudes and that's a story for another day.)
Okay, so what'd you do on Wednesday?
On Wednesday, the Recording Academy and CBS kicked off their first-ever immersive pop-up experience—appropriately christened the Grammy House—with the Celestial Sessions, an emerging artist showcase featuring performances by TiaCorine, JELEEL!, and others. But because God is good all the time, it was also hosted by social media royalty Desi Banks.
Later that night, over at the Grammy Museum, Hulu and Onyx Collective combined superpowers to premiere an advanced screening of the "Music" episode of their new series, The 1619 Project. As someone who had yet to catch the docuseries, I was blown away by not only the ways in which it explores the relationship between Black trauma and our various means of self-expression but how it dissects various elements of our music and the ways in which it's disseminated to the public. A great example of this is how we don't give Berry Gordy anywhere near enough credit for his irrefutable role in recontextualizing the public perception of Black people with the introduction of Motown Records. I don't want to steal Nikole Hannah-Jones or New York Times film critic Wesley Morris' thunder, so just do yourself a favor and watch that episode immediately.
After the screening, the audience was treated to an insightful panel that included legendary house DJ/producer Terry Hunter and music journalist Billy Johnson, Jr., before transitioning to a VIP reception on the roof—because one thing about LA niggas: we looooove a rooftop party—that included a musical performance from Grammy-nominated artist Rapsody because of course, it did.
Oh, and shoutout to whoever hooked up those sliders because my tapeworm and I took turns obliterating those. What a time to be alive.
Aiight, so what about Thursday?
Ahh, yes. Where shall we begin?
In the afternoon, Grammy House hosted its Starkmaker Studio Producer Panel, which featured some of the biggest producers in the game—namely London On Da Track, ATL Jacob, Murda Beatz, and other producers well outside of my tax bracket—waxing poetic about how they came up in the industry, their creative processes, their curiosity and apprehensions about AI's potential impact on music, and other insightful topics.
A quick nap and a shower later—please keep in mind that unlike most sensible adults, my work day actually starts at 5 a.m.—I had to haul ass over to the Hollywood Palladium for the Recording Academy's super swank Black Music Collective event, honoring icons Dr. Dre, Missy Elliot, Lil Wayne, and Epic Records CEO Sylvia Rhone for their invaluable contributions to the culture. Outside of copious amounts of Grey Goose—it's cool; I didn't need my kidneys anyway—and a delicious feast courtesy of Ghetto Gastro, we were treated to memorable performances by Busta Rhymes, Ciara, and Chloe Bailey's polarizing interpretation of Aaliyah's "One In a Million". To my shock and awe, Tyga also did his thing, miraculously recapturing the magic of "A Milli" while defying the laws of physics and breath control. Of additional note, just about every celebrity, music exec, and otherwise influential individual that you can think of was in the building, from Lil Kim to Swizz Beatz to Anthony Hamilton (but I outdressed them all because I don't make the rules). This gave me a prime opportunity to ask Jermaine Dupri about his recently debuted—and curiously absent—"hot boy" flat top. To which we exchanged laughs while he dapped me up.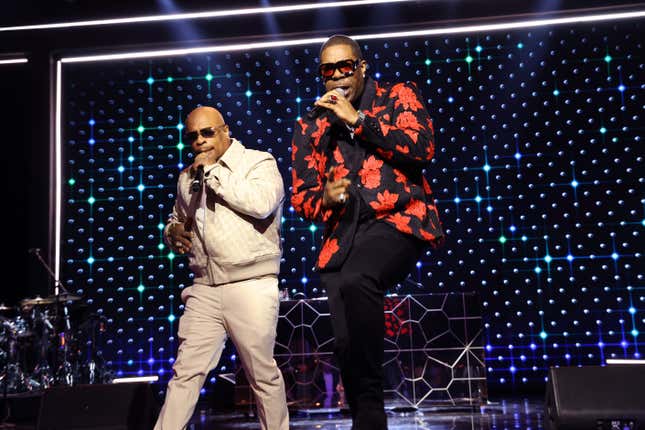 But if you think that's where my night ended, you've got Grammy Week alllllllll the way fucked up. Because from there, I hopped in an Uber and teleported over to Babyface's party (shoutout to Patron!) celebrating his 80 Grammy nominations (and counting). I also went to great lengths not to look him directly in his eyes, since any dude who can write that many multi-platinum love songs clearly has light-skinned superpowers—and I didn't want him to make me burst into tears or elope. In other news, also took great joy in dragging my guy Algee Smith about him ducking this fade in Uno for months now before it was off to the Peppermint Club for more late-night shenanigans.

It's Grammy Week, dammit. Sleep is for suckas.
Damn, Grammy Week sounds exhausting. What about Friday?
On Friday, with my sleep and sanity deteriorating at an alarming rate, I took a pilgrimage across the street to the Los Angeles Convention Center for the MusiCares 2023 Person of the Year gala honoring two very successful Black men you might've heard of before: Smokey Robinson and Berry Gordy.
In short, it was fucking dope, with a seemingly endless succession of legendary performers taking turns bowing at the altar of two Motown legends—who just so happen to still be best friends to this day. From Sheryl Crow channeling a young Michael Jackson with the Jackson 5's infectious "I Want You Back," to Stevie delivering Wonder with his own reggae-infused rendition of "Tears of a Clown," it was a night of endless musical marvels. But my personal favorite was when The Temptations did what they do best: tear down the house with a medley of their iconic hits. Because when you're the golden standard for R&B groups, that's what you're morally obligated to do.
It was also beautiful to see the mutual admiration between Smokey and Berry, because I feel the exact same way about charcuterie boards.
After the gala, it was off to The Gathering Spot for Rhythm and Bleu, which is what happens when Issa Rae's "audio everywhere company" Raedio, producer extraordinaire Bryan-Michael Cox, and Grey Goose make a beautiful R&B baby. And in what should come as a surprise to absolutely no one, it was a good-ass time with good-ass people drinking good-ass drinks to good-ass music. And while I could hear my pillow calling out to me, I made one final pit stop at Andaz West Hollywood for Kiss N Grind, which featured a stacked lineup of DJs that included Terry Hunter, Kid Capri, Vikter Duplaix, and me nodding off in a closet somewhere like a toddler.
Okay, and Saturday?
With my voice completely gone for the second time in as many days and my diminishing health and sanity not far behind, I was left with no choice but to do the only thing I hadn't done all week: marry Halle Berry sleep. So despite having a schedule that included luncheons, day parties, cocktail hours, and other methods of madness, I stayed my ass in bed literally all day until The Roots' Grammy Jam Session at the El Rey Theatre that night.
Upon my arrival, I was shocked to see just about every big name in Hollywood ensnared between two separate lines that wrapped around the block. And as someone who frequents more than my fair share of high-profile events, this might've been the first time in the history of ever that I saw so many celebrities, public figures, and otherwise very important individuals being treated like commoners—unless your name is Jay Connor.
Thankfully, with my fam over at Polaris Slingshot sponsoring the event and extending an invitation—the rumors are true: we go together—all I had to do was click my heels and fire off a "hey big head" text, and the next thing I knew I was inside indulging in Adam Blackstone's The Legacy Experience, which featured jaw-dropping performances from Kenyon Dixon, Muni Long, Tye Tribbbett, and others. This, of course, set the stage for the legendary Roots crew to do their thing soon after. And with a set that included Too Short (whose favorite word apparently isn't "chivalry"), Scarface, Coast Contra, and Southern star Tobe Nwigwe, they not only treated the audience to beautiful renditions of J Dilla's "Think Twice," but explored the unheralded quadrants of their staggering catalog.
I also had the privilege of catching up with 2022 The Root 100 honoree Questlove quite literally as soon as he got off the stage. Because while turning water into wine is completely out the question, Polaris Slingshot is still really fucking good at this whole "making miracles" thing. (I told you, that's bae.) I also had to dig deep and forgive the Oscar award winner for lying to my face last spring about The Roots dropping a new album in the summer. (You promised, bruh!) But in my quest (no pun intended) to be a better me, I'ma let go and let God.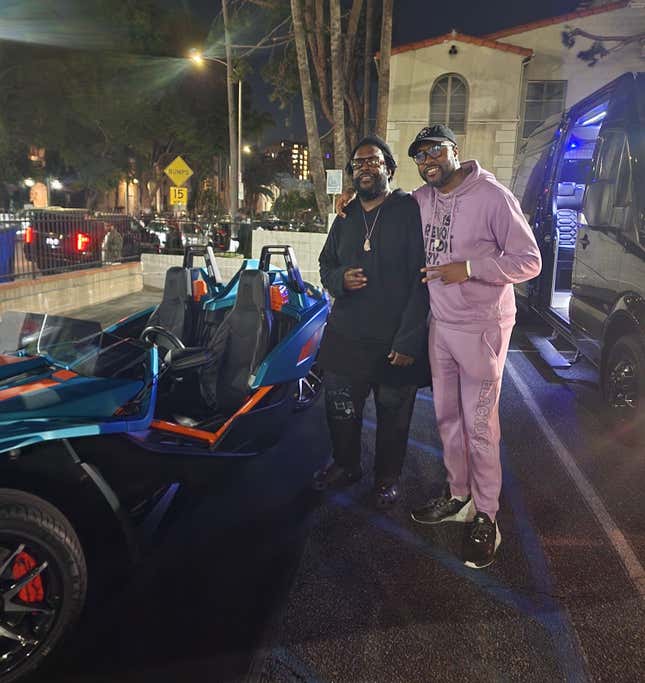 As far as post-show shenanigans, as badly as I wanted to keep it hip-hop and swing by either 9th Wonder and DJ Battlecat's Fass Auntie Lounge or Boombox LA's Dillafest, my sleep-deprived body had other plans. Which was perfectly fine with me since I don't think The Root's Grammy Jam Session ended until damn near 2 a.m. anyway.

Grammy Week is not for the weak.
Damn. And Sunday was the Grammys, right?
Correct. You can read all about that here, here, here, here, and just about everywhere else on this site because our dedicated staff is all over it. But if you want to know what it was like to actually be there, I'm gonna let you in on a little secret: award shows can be boring as shit. That doesn't mean they aren't incredibly important, but spending five or six hours of your life doing anything is tiresome. However, that's not to say it didn't have pockets of joy sprinkled throughout.
I cried real tears laughing at The-Dream reminding the audience, "Y'all know niggas be on CP time," in reference to Beyonce not being there to accept her award for Best R&B Song (at this point, "Cuff It" is more contagious than the coronavirus) and that 50th-anniversary Hip-Hop tribute was utterly ridiculous. But admittedly, I was so tired from a full week of getting my ass kicked up and down Hollywood by the behemoth known as Grammy Week, I was barely clinging to consciousness about 20 minutes into the show. This is exactly why despite a myriad of afterparties going on afterward, including one in particular hosted by Universal Music Group, I took my Black ass home. I was officially tapped out.
Well, congrats on surviving Grammy Week. How are you holding up?
Now that the torment is finally over, I feel like a boiling vat of hot ass. In other news, I probably lost a few billion T cells, I've been diagnosed with PTSD, and my voice is completely shot for a fourth time. But considering I somehow survived on a grand total of about 2.7 hours of sleep, I at least deserve a Boy Scout badge or something.
Okay, but would you do it again?
As much as I want to defiantly exclaim "hell nah" or "I'm too old for this shit," I guess we'll all find out next year during Grammy Week. Just don't wake me up until then.