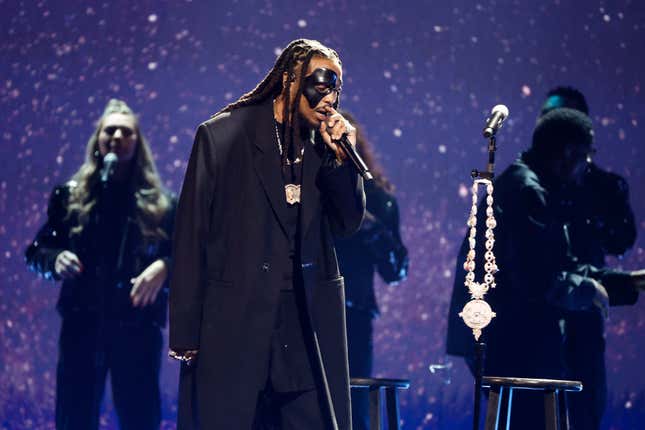 During its In Memoriam segment, the Grammys took time to honor three special artists, among them late Migos rapper Takeoff. Alongside gospel artists Maverick City Music, Takeoff's uncle and bandmate, Quavo, gave an emotional performance of his song "Without Me."

"Tears rollin' down my eyes. Can't tell you how many times I cried," Quavo sang as he performed in front of an empty microphone stand featuring Takeoff's chain. "Days ain't the same without you. I don't know if I'm the same without you."
The song, which Quavo released in January, then transitioned into Maverick City Music singing "See You Again." Takeoff was shot and killed in Houston in November. His death sent shockwaves through the music world, hitting his bandmates Quavo and Offset.
This was a particularly special moment, as the other artists receiving tributes were country legend Loretta Lynn and Fleetwood Mac singer Christine McVie. To have Takeoff honored on the same level as such influential musicians shows the impact and importance of rap.
The Recording Academy could have just included Takeoff as another name on the list of artists we lost this past year, but they chose to give Takeoff, Quavo and Migos fans this moment. Considering the complicated relationship rap and the Grammys have had over the years, it's nice to see the genre finally be recognized as an equal. The tribute led to emotional reactions on social media.
"Sending love to Quavo for his tribute to Takeoff," tweeted Fuse TV.
Journalist Ernest Owens noted how emotional the audience was, writing, "There's not a dry eye in here. Quavo is pouring his heart out right now."
One fan marveled at Quavo's strength, tweeting, "I'm Crying! That was a beautiful tribute. Quavo was very strong to do that tribute."
"Quavo and Maverick City had me folded up like fresh laundry in TEARS," wrote Twitter user Kev on Stage.
The way Quavo shared his grief was beautiful and brave. It was one of the most authentic and moving moments in Grammys history.