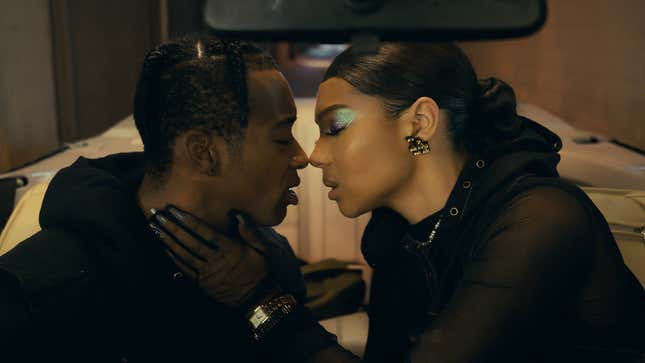 In Thembi Banks' feature directorial debut, Young. Wild. Free., Algee Smith (Detroit, The New Edition Story) stars as Brandon, a troubled, artistic teen with way too many problems.

Rings of Power's Queen Miriel, Cynthia Addai-Robinson, Plays That's So Random
He's got problems at his job, likely due to his unchecked temper that causes him to lose his dead-end gig right as the film unfolds. He's got problems at school, likely due to the fact that he's fallen way behind with only a month of senior high left before he (hopefully) walks across that graduation stage. And both of those problems are offshoots to the main problem he faces at home: he's the older brother to two younger siblings who has to shoulder most of the responsibility—monetary and otherwise—of the household due to his mother's (played impressively by Sanaa Lathan) unnamed mental health issues, which often leave her bedridden and unmotivated to work.
So what's a young man to do when his only escape appears to be the varying hand-drawn sketches adorning his walls and notepad and the solution to his problems appear nowhere in sight? His best bet might be to lean on those around him—namely Cassidy (On My Block's Sierra Capri), a movie-loving, free-spirited, rule and reality-averse classmate whom he meets as she robs him at gunpoint at a local convenience store. Despite their rocky start, the two grow closer and closer with reckless abandon as she provides an outlet and grants tacit permission for the struggling teen express his innermost impulses. Not in the sexual way, though to two do engage in the act after a home robbery goes horribly wrong. But in a way that brings him closer to the real object of his desire: a normal life, free of issues.
While shots of the city of Los Angeles are beautifully littered throughout that do much to visually aid in the somewhat scattered storytelling, and while Smith does a very convincing job at portraying a teen with a multi-layered, implicitly manic plight, the film's biggest plot twist is revealed in such a confusing way it's intended impact unfortunately get's muddled. Still, the project's ideas surrounding mental health, art as escapism, and the push-and-pull of doing what's right versus doing what feels right are present, as are nods to classic films like Reservoir Dogs, Kill Bill and Lila and Eve (the latter one will hit you towards the films end). What's missing is the lack of cohesion in certain spots that could've helped stick the landing and the messaging more, but overall, this is a strong start for Banks who certainly has a long and bright future in filmmaking ahead.