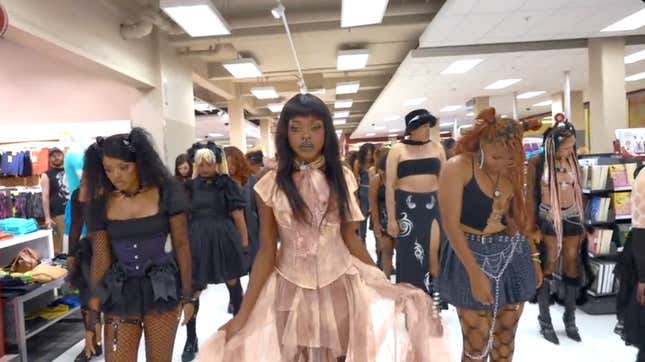 An aspiring music star is getting mixed feedback after accusing a Target employee of being racist for calling the cops on her flash mob. While dialing 911 on a group of predominantly Black people is a little sus, a lot of online users said she should have packed up her performance and taken it elsewhere.

Courtney B. Vance in Heist 88 Is Our Black TV Pick of the Week
Just weeks ago Target shoppers in Denver were rudely interrupted by a Karen stomping around angrily in blackface. According to The New York Post, LA Target shoppers also couldn't catch a break when Baby Storme came marching in with her crew of at least 40 people dressed in (honestly, kind of cute) gothic-themed costumes. The footage was intended to be used for her music video for "This City is a Graveyard" but it's clear that as the group Thriller marched in front of the checkout lines, things got interrupted.
"This racist Target employee called the police on us for dancing in Target... So we danced anyway," Storme wrote via X. "—we went while there was NO ONE in the store, had POLICE called on us & were a 'safety violation' BEFORE we even entered the building. y'all can never bully me into thinking idk what "racism" is."
The video showed two security guards walking through the dancers and attempting to block the camera while a woman in the background screams for the group to stop. Alas, they sang and danced anyway. TikTok fans of the artist sympathized with her saying the employees had no reason to call the cops and offered words of encouragement.
X users, however, weren't so supportive.
To add a cherry on top of the whole ordeal, Storme's post with the video of the interrupted flash mob has been flagged with a "context alert" by X reading, "There is no evidence that the employee is racist. Target has a policy that shopping should be distraction-free. From the video, it would appear that the group is filming and dancing (soliciting attention), which is against Target policy."
This is one of those moments where the "racism" card just doesn't stick. Please stretch before you reach, as one user put it.