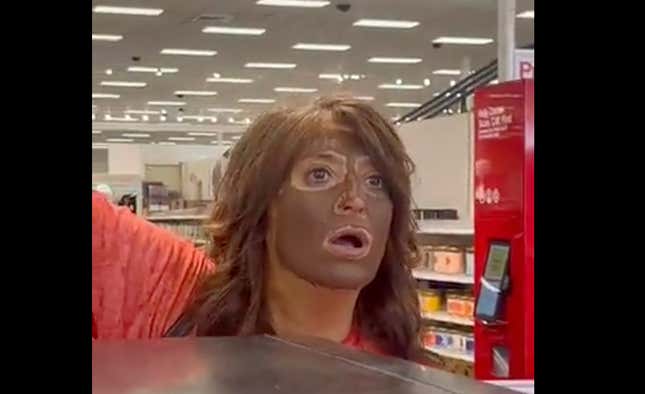 Listen, the last thing I want to see while rolling my shopping cart into the Ulta section of Target with my oat milk shaken espresso in hand is a Karen who woke up and chose violence. In a clip obtained by TMZ, a woman identified as Ersilia Campbell interrupted the peaceful shoppers of an Aurora Target while wearing deep brown makeup smeared all over her face.

ULTA Beauty Faces A Boycott For Being Trans-Inclusive In Their Marketing
The person recording points the camera at her and says, "You're literally doing blackface in the middle of the store."
The Karen responds, "Yea, well Lester Holt did 'whiteface' and nobody said shit." The stunt she's referring to is the NBC anchor's controversial (at least, to conservatives) Halloween costume from like over a decade ago. Tucker Carlson and all the other right-wing blowhards tried to compare the costume to blackface... an offensive caricature intended to degrade and insult how Black people look.
This wasn't all, though. The woman's rampage continued across the way.
Read more from The Daily Beast:
"Where's your Pride section?" Campbell asks the sales reps behind the counter, referring to the controversy surrounding products Target sold during Pride Month. "I need to know! …Oh, I thought they were celebrating this and they took our flag forever? No? I was wrong. My bad. I don't shop at Target."

Then, Campbell walks past the checkout counters and leaves the store.

According to TMZ, after Campbell left Target, she went to a Starbucks wearing a shirt covered in pro-Trump stickers and complained about how she lost her job with the U.S. Postal Service. The outlet reported that Campbell was fired in February, and a trespassing notice was posted at the post office indicating she was banned. Employees were warned to call Postal Inspection if they saw her there.
So she was so angry about being unemployed that she had to stomp around insulting Black and LGBTQ people? This behavior probably constituted her termination. Karens no know bounds.