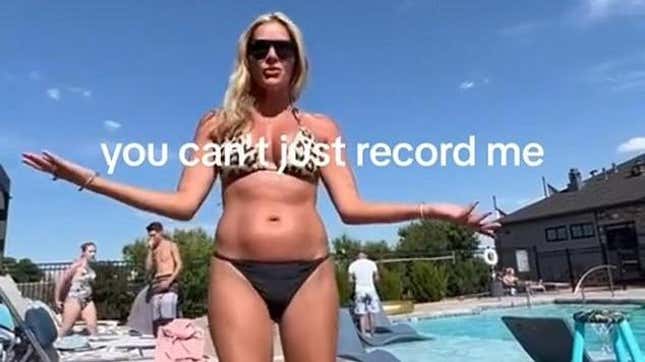 Video footage is circulating on social media of a white woman making racist remarks toward a Latino family having a small gathering at their apartment complex in Lakewood, Colorado. The Karen remains unidentified but in the clip is seen as a blonde woman wearing a bikini and sunglasses. The woman first complained about the group being too big before diving straight into racism as an onlooker recorded her.
Georgia Nurses Thought It Was Smart To Mock Patients on TikTok
"Yes, it's true," she said in the video. "You have a f**king Mexican party in a pool. Trash." The Karen then realized she was being recorded and took her frustrations out on the person with the camera. "You can't do that. You can't just record me," she says before hitting the phone out of the hand of the person filming the video then shows the Karen being held down by a man that she seemingly arrived to the pool with. However, this didn't stop her from coming for the family and spewing xenophobic remarks like "Get the f**k out" and "go back down to Denver." One of the people on the receiving end of the attack tells her to leave.
That's when the Karen screams: "I live [in Lakewood], nowhere you ever came from, you f***ing low-class slime." It's only a matter of time before three police officers are called to the scene, though it unclear who called them. It is also unclear if an arrest was made.
The TikTok user who posted the video, @jadeserie, shared it in hopes of identifying the pathetic culprit. "Let's find her! Mind you, she was saying racial comments the whole day, even pointing out our parties children saying 'when they grow up they will be trash too," the TikToker wrote.
"According to this Karen, all Mexicans are low class. I hope this video is found by her coworkers, family and friends. Acting like this at family BBQ with children is absolutely disgusting." The internet has a way of discovering all kinds of information about people, so it's only a matter of time before her identity is revealed.