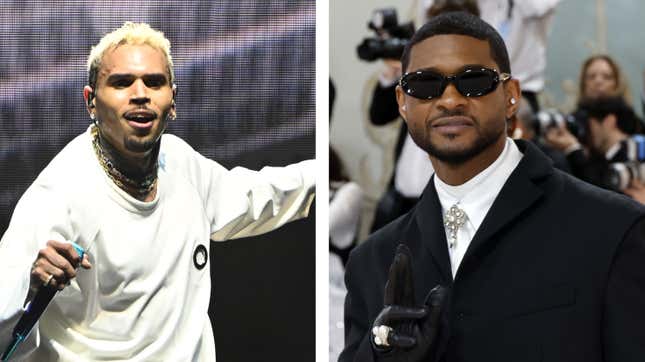 Just hours after it was reported that the two singers had a brawl, Usher and Chris Brown took the stage Saturday for their respective sets at the Lovers & Friends Festival, shocking fans who were wondering if either would even still appear. But first, let's sort all this foolishness out by starting with the fight.

Stars of Lifetime's A New Orleans Noel On Their Rom-Com Christmas Movie
According to TMZ, early Saturday morning at Brown's star-studded birthday party at Skate Rock City in Las Vegas, the "Forever" artist allegedly approached actress Teyana Taylor outside the skating rink and when she didn't acknowledge him, he began to yell at her. Usher stepped in to get Brown to calm down, which led Breezy to turn his ire on both Taylor and Usher. This reportedly led to a fight between the R&B stars, who are said to be good friends. Keep in mind, Usher was just talking about the duo doing a Verzuz together as recently as last week.
Before we move on to the second part of this drama, we need to talk about Chris Brown. Why are people still putting up with his nonsense? This person has shown no ability to learn from his mistakes. He has continually displayed a troubling pattern of disrespectful and abusive behavior toward women. Seriously, why is he still considered a great artist who is worth anyone's time or money? There is no reason for him to receive the kind of unconditional support that he gets. Now let's move on to the aftermath of the alleged fight.
There were rumors floating around that Usher's face was banged up and he wouldn't be able to perform at the festival. If you listened to the internet, the "Burn" singer had turned into The Elephant Man. He put those questions to rest with an Instagram Stories video on Saturday morning, where he showed himself backstage at the event, looking like the Usher we've always known. Brown performed before Usher and never mentioned the alleged incident.
According to TMZ, as if that wasn't enough, Brown was also allegedly involved in a backstage confrontation during Missy Elliott's set at the festival. He commented on a social media post about the incident, writing, "Yall been geeked all weekend, y'all dragging it now. It was mad people backstage and security was trying to clear everyone off the stage. People started pushing back.. I INTERVENED To let them know MY CHILD WAS BACK THERE. So y'all can keep ya narrative."
So he had time to comment on the incident that no one is talking about, but not the fight with someone who is supposedly one of his close friends? Once news of this situation dies down, this will end up as another entry on the "Run It!" singer's lengthy list of bad conduct. Despite all evidence to the contrary, Brown's die-hard supporters will continue to think he can do no wrong, and in a few months, we'll be back here with another story about him not knowing how to act with women.