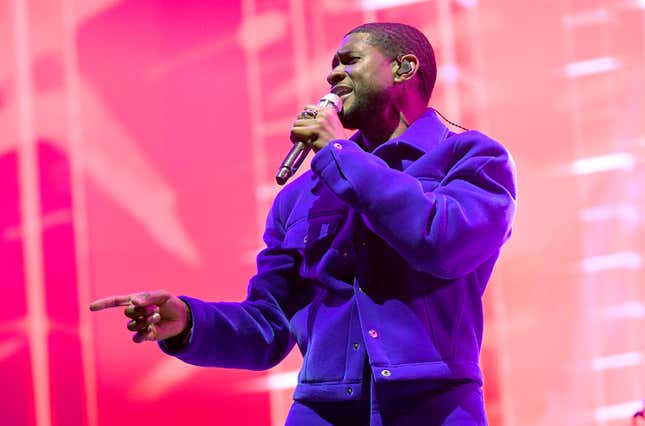 They might call him U-S, H-E-R, R-A, Y-M, O-N-D, but it may come as a surprise to know that the NFL has yet to invite R&B singer Usher to grace the stage as a Super Bowl Halftime Show performer.
Stars of Lifetime's A New Orleans Noel On Their Rom-Com Christmas Movie
Speaking in a new interview with Access Hollywood over the weekend, the "My Boo" singer said it's something he definitely wants to make happen and honestly, if and when this happens, I'll be counting down the days.
"I'd be a fool to say no," Usher said. "If things line up the way we would all hope, one day that moment would happen. I've had the opportunity to graze the stage in support of 'OMG' and Will.i.am but that was one moment."
He continued: "I think I have a catalog that obviously speaks for itself, so to be able to celebrate on that day, it's obviously about football, but everybody really anticipates the performance. Seeing Michael Jackson perform and recently seeing Snoop [Dogg] and [Dr.] Dre… seeing so many incredible performances like Prince…it has always been kind of a bucket list."
SAY. LESS. USHER. As a matter of fact, say no more because now that you've put this out there God, Black Jesus, and all of the universe will be conspiring with you to make it happen. And to further add to this manifestation, I've come up with a perfect setlist to prove why you should have already performed during one of the biggest sporting events in the world. Since Rihanna recently did 12 songs, we'll set that number as our standard:
Usher's Perfect Super Bowl Halftime Setlist
1. "Superstar"
2."U Don't Have to Call"

3. "Love In This Club"
4. "Caught Up"
5. "OMG" (just the parts he sings)
6. "Don't Waste My Time" (with or without Ella Mai)
7. "Confessions, Pt II"
8. "Nice & Slow"
9. "U Remind Me"
10. "My Boo"
11. "Lovers and Friends" (without Luda and Lil Jon)
12. "Yeah" (with Luda and Lil Jon)
Now look, we all know "perfect" is a loaded word that instantly inspires debate, so let us know which songs you'd add or remove down in the comments!