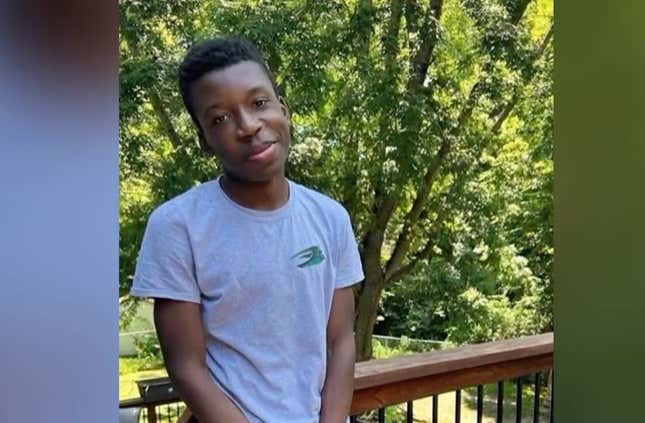 There was a sigh of relief reading that 16-year-old Ralph Yarl wasn't dead as a result of being shot by a Kansas City resident after knocking on the wrong door. What's even better news is that the teen was discharged from the hospital and back home recovering with the support of his family, per Kansas City Star.
Small Town Horror: The Story Of A Deadly Amusement Park Ride
"He continues to improve. He's responsive and he's making good progress," said Paul Yarl, Ralph's father. His mother, a nurse, took off time from work to help her son. Ralph stayed in the hospital for three nights and his family has created a GoFundMe to raise money for medical bills.

Over $1.2 million has been raised.
On the topic of good news, the Clay County Prosecutor's Office announced there will be charges filed against the man who shot at the teen, 84-year-old Andrew Lester, according to KMBC. Investigators found Lester shot through his glass door before responding to Yarl. He told the police he thought someone was breaking into his house and said Yarl's "size and age" made him scared to death.
Maybe that's why Prosecutor Zachary Thompson suggested there was a "racial component" to this case.
Lester is facing first-degree assault and armed criminal action charges and faces life in prison upon conviction. He's been released from jail.
What Happened?
The family of a Black teenager shot after ringing the wrong doorbell hired Benjamin Crump to represent them in criticizing the authorities, according to NBC News. The resident who shot the boy was released after 24 hours, and the boy's family argue the man should be back behind bars, facing criminal charges.

Thursday, 16-year-old Ralph Paul Yarl was shot twice by a Kansas City resident. Kansas City police say he arrived at the home looking to pick up his siblings, but mistook the residence on the Northeast 115th Terrace for one on Northeast 115th Street. This honest mistake resulted in a shot to the head and arm. The white homeowner accused in the shooting was held in custody for 24 hours and released because charges weren't filed. With the alleged shooter free to go home and Yarl sent to the hospital, anger erupted among city residents.
Yarl's family and demonstrators gathered to protest over the weekend, demanding justice be served for what they considered to be racially motivated crime.
Read more from NBC News:
Lee Merritt and Ben Crump announced Sunday that they were taking the case and promptly criticized authorities in Kansas City, Missouri, for releasing the shooter, who they said is a white man.

"There can be no excuse for the release of this armed and dangerous suspect," the lawyers said.

Police Chief Stacey Graves explained why the shooter was released and vowed to investigate thoroughly. She said that a vast majority of felony suspects are released after 24 hours but that many are re-arrested once enough evidence is gathered to trigger charges.
Mayor Quinton Lucas said he's going to make sure there is a thorough investigation into the incident and the report will be brought to the prosecutor's office. He also said he aims to allow Yarl access to all the resources he needs to be supported in his recovery.
The teen's family say he is stable condition. It's unclear what the next steps are for his family and their new civil attorneys. However, it's clear the justice they seek results in the man being charged and tried for his actions.