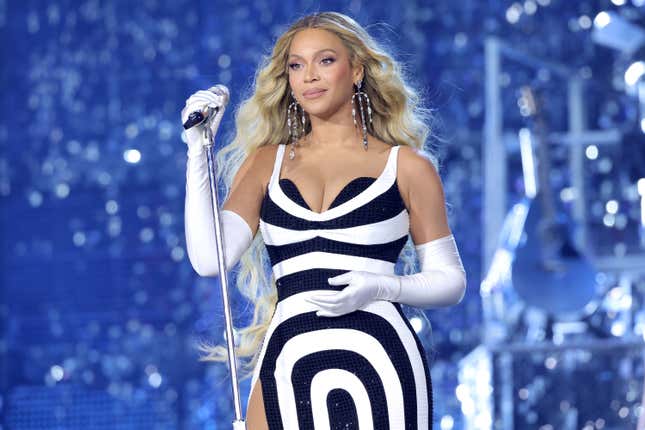 You know you're a badass when the records you break are your own. But then again, Beyoncé is a transcendent artist whom the normal rules of pop culture don't apply to.
Music Producer & Beyoncé Collaborator, Dixson, Plays That's So Random
She's broken multiple records throughout her career. Now she can add one more to the list, as her Renaissance World Tour is the highest-grossing tour by a Black female artist. The previous record holder was her 2016 Formation World Tour.
According to Billboard, the 21 show European leg made $154.4 million, selling one million tickets. Current predictions have the tour making $415 million and selling 2.8 million tickets. Meanwhile, Forbes is predicting that Queen Bey will outearn Taylor Swift's Eras Tour by $500,000, with the "Cuff It" singer possibly bringing in $2.1 billion. Along with massive merchandise sales, the outlet based its estimate on "the most optimistic assumptions of the number of fans buying tickets at their concerts and high average ticket prices of about $700."
We can't be surprised by these numbers when the tour started with her literally changing the economic landscape in Sweden. I'm sure that wasn't an isolated incident. Every tour stop probably saw spikes in hotel reservations, restaurants, car services, public transportation and other recreational activities. These are the kinds of bumps cities see from major events like Super Bowls and Olympics. From jaw-dropping outfits, to a possible feud with Erykah Badu, to her daughter Blue Ivy stealing the show, the concerts have made headlines in almost every city.
And don't think we just moved past that $2.1 billion like it's nothing. For a Black artist, let alone a woman, to drum up the wild demand that she did for the Renaissance is unprecedented. We knew right from the start that this was going to be a record-breaking event and she did not disappoint. Considering how influential she's become, these numbers are so big that they'll likely stand until Bey's next tour, which we should all start saving up for now.