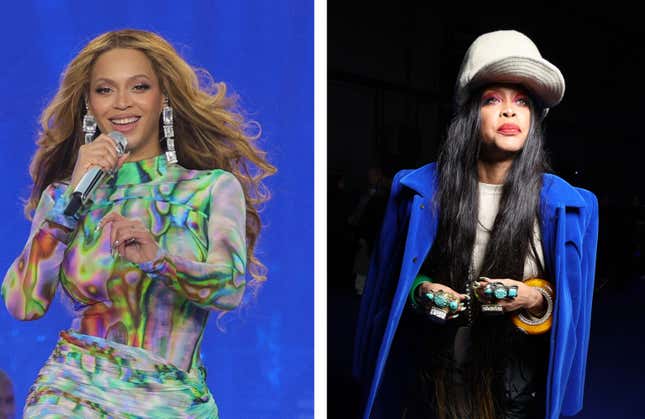 Did anyone have a feud between Beyoncé and Erykah Badu on their list of summer activities? Well, whether you were expecting it or not, here we are.
How Erykah Badu's "Tyrone" Became An Anthem For Black Women
On Monday, Queen Bey brought her much-talked-about Renaissance tour to Gillette Stadium in Foxborough, Mass. and made sure to shout out the "You Got Me" singer. In a fan video from the show, while performing "Break My Soul (The Queens Remix)," instead of hitting the usual lyrics, where she celebrates "Badu, Lizzo, Kelly Rowl," Beyoncé changed it up to "Badu, Badu, Badu, Badu." This had the internet wondering if she was applauding the R&B legend or shading her.
This all stems from the On & On artist's comments on Sunday, when she appeared to take issue with Beyoncé wearing a stylish, metallic wide-brimmed hat at one of her recent concerts. Accompanied by a photo of the "Cuff It" singer, Badu wrote on Instagram Stories, "Hmm. I guess I'm everyone's stylist. My favorite chrome mirror hat."
While wide-brimmed hats have been one of Erykah's signature looks throughout her career, it doesn't mean no one can ever wear them. It's not like Bey was trying to claim she invented them. This whole thing seems like something drummed up by the internet, so let's hope this is where it ends.
The more serious side of this story comes from Lizzo's name being excluded from the line. On Tuesday, three of the "Juice" singer's former dancers filed a lawsuit accusing her of creating a hostile work environment with body-shaming and sexual harassment. Allegations leveled at Lizzo, her production company Big Grrrl Big Touring, Inc. and her dance captain Shirlene Quigley include "sexual, religious and racial harassment, disability discrimination, assault and false imprisonment, among other things."
We all know how media savvy Beyoncé is, so it's no surprise that she immediately took any Lizzo references out of her show and kept it moving. Frankly, she could've added the extra Badu shout outs just to take the attention off of cutting Lizzo out.
Honestly, I just want this whole affair to lead to Erykah Badu showing up on the Renaissance tour for a surprise duet of "Tyrone."