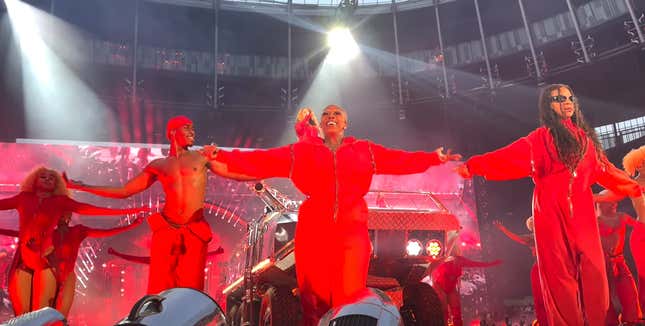 If you're like us and have been addicted to watching clips of the Renaissance World Tour, then you've likely seen a beautiful, plus-sized, bald, mocha-skinned dancer next to Blue Ivy. You asked who is this woman who is killing it every night? Well, we got you. She's the Renaissance World Tour's dance co-captain, Amari Marshall.
Music Producer & Beyoncé Collaborator, Dixson, Plays That's So Random
Who is Amari Marshall?
Marshall is known in the dance world as AmariMonster, after gaining popularity from debuting in Monsters of Hip Hop, a panel of wildly successful choreographers who've worked with stars from Ciara to Madonna.
Marshall was destined to be a dancer as her parents Tiffany and Andre Marshall created the Systematic Dance Crew in 2004 , where Amari and her recently-passed brother Andre II honed their skills. Throughout her career, she's choreographed for and performed with the biggest names in the music industry such as Janet Jackson, Pharell Williams, Ciara, Rihanna, and currently, Beyoncé.
Her history with Beyoncé
The Beyhive first saw Marshall and her little sister Jore share the stage with their queen for the Coachella Homecoming performance in 2018, causing quite the buzz (get it?) for seeing curvy women with Bey.

Five years later, Marshall has the honor of not only being the dance co-captain on the Renaissance World Tour, but she is also Blue Ivy's biggest protector and supporter. As soon as "My Power" starts booming on the speakers, Marshall is side-by-side with the pre-teen and directing her on and off-stage. Even Tina Lawson is grateful for Marshall's mentorship for Blue writing in an Instagram post, "I love me some @amarimonster who is definitely my favorite dancer always killing it! right now ! Blues Dance Stage Momma to the left always protecting our baby!!!❤️ thanks Amari!!!!!"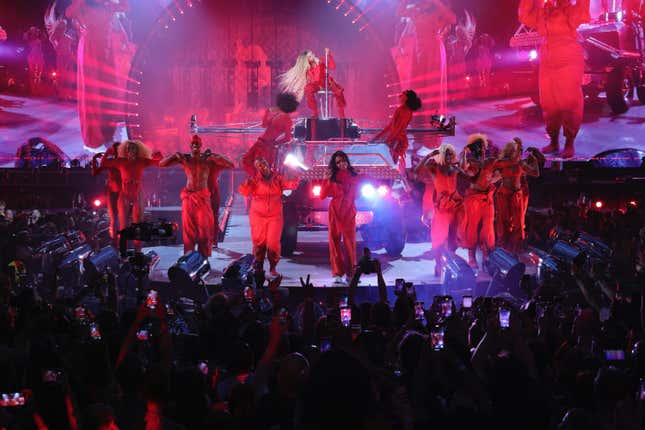 Being a Curvy Dancer
Marshall has been a beacon for body positivity on the tour typing in an Instagram post, "The honor of being the first curvy dancer to tour with the Queen is a hat I wear proudly. This is for us. The sky is the limit." One of the most exciting moments on tour is one of Marshall's solos where she jumps, twerks, and flaunts her stunning figure as the words "Body!" are screamed on the music track.
Tragedy on tour
Even through the excitement of the tour, Marshall suffered a great loss as her older brother, Andre II suddenly passed away during the Europe leg of the show. The same day that his death was announced, Marshall took the stage and was surprised by an emotional moment of silence and tribute to her brother, whom she danced with her whole life. You must see the video.

Marshall took a brief break from the tour to grieve her brother but bounced back for the North American leg of the tour. And now she's only becoming more and more of an anticipated figure at the concerts by audiences!