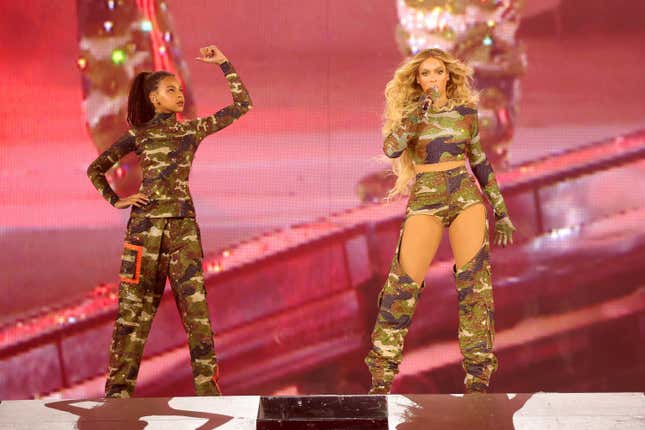 Updated on August 24, 2023 at 11:30am
As the Renaissance World Tour winds down in the United States, Blue Ivy Carter is ready to head back to school after having the coolest summer a kid could ask for! The preteen became one of the most loved people to see on stage by the BeyHive. However, Bey's oldest daughter is not new to being a star.
First updated on May 27, 2023 at 1:20 p.m.

We all knew Blue Ivy could dance but on May 26 she proved it when she joined mom on the Renaissance stage in Paris. It all happened during the performance of The Lion King: The Gift track "My Power." After going toe to toe with Mama Bey, 11-year-old Blue Ivy joined the backup dancers.
Not missing a beat, Blue Ivy only had a week to learn the steps, her grandmother Tina Knowles-Lawson said on her Instagram account, "There were almost 70,000 people in the audience. She danced with professional dancers, she did complicated choreography and moves they rehearsed for months!"
She even said Blue Ivy's moves reminded her of the late but great Aaliyah. We agree "So smooth with it," she said.
And of course, Blue Ivy's hair was on point. We loved her braids. (If you want to see the evolution of Blue Ivy's beautiful hair, from when she was a baby to now, check this amazing slide show The Root created a few weeks ago.
The Paris event wasn't the first time Blue Ivy stole the show. In January 2023, Blue Ivy Carter shared the stage with her mother, Beyoncé in Dubai. She is a star in the making, even if she doesn't eventually end up as a music artist like her parents. Success is in her veins! Here are some other moments when we knew that Blue was meant to shine!