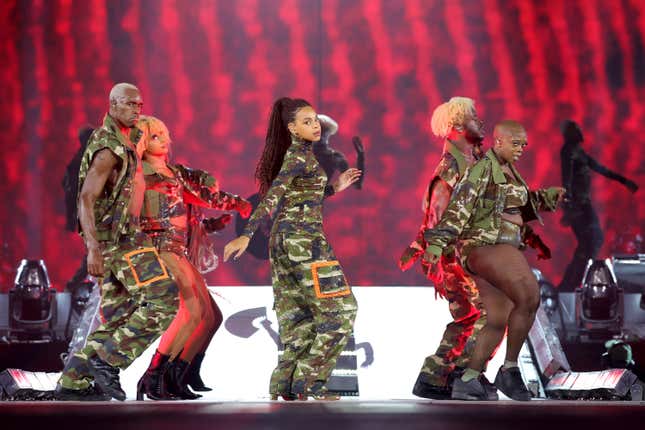 When she's not selling out shows around the world and making hit music, Beyonce is a mom of three – a job some might argue is harder than dancing and singing your ass off night after night. Because when it comes to parenting, there is no choreographer to direct your steps, and there's definitely no hair and makeup team to make sure you look your best while doing it.

Music Producer & Beyoncé Collaborator, Dixson, Plays That's So Random
But from the moment she revealed her baby bump during her 2011 VMAs performance, Ms. Carter has been handling her job with grace – even while the haters salivate, waiting to pounce on any misstep. And although her 5-year-old twins Rumi and Sir have largely stayed out of the spotlight, Bey's 11-year-old daughter Blue Ivy has been coming into her own as she joins her mom on stops along her Renaissance World Tour. And whether you love it or hate it, you can't deny that Beyonce is teaching her daughter some very important life lessons by letting Blue join her on such a big stage.
Travel is Good For You
Performing night after night for over two and half hours on the Renaissance Tour is taxing to say the least. But the long-term benefits of all that travel are going to pay off. According to a study by the Student & Youth Travel Digest, travel has a tremendously positive impact on kids, including increased independence, self-esteem and empathy for others.
Never Fail to Try
One of the most important things we can do for our kids is encourage them to try new things. We don't know if Blue Ivy will follow in her mom's star-studded footsteps, but fans are having fun watching her do her thing on stage while she figures it all out. It's not easy to perform in front of millions of people, especially when you're only 11. But once you check performing with Beyoncé off of your bucket list, giving a presentation at the school science fair is like a walk in the park. And as the saying goes, you miss 100 percent of the shots you don't take. "I just want my child to be happy and healthy and have the opportunity to realize her dreams," Beyoncé told Elle in 2016.
Practice Makes Perfect
In the beginning, you could see Blue had some nerves. But with each performance, she's getting better and more confident – and the audience is taking notice. This video shows a side by side comparison of two Blue Ivy performances. The latter shows a confident, more relaxed Blue who is coming into her own.
Go With a Growth Mindset
As the tour goes on, Blue is getting used to the lights and the crowd and actually looks likes she having a whole lot of fun doing it. "Omg queen, but i think blue stole the show," wrote one on TikTok. But more important than her getting better is the fact that she never gave up.
Psychologist Carol Dweck coined the terms growth mindset (a view that intelligence, abilities, and talents as learnable and capable of improvement through effort) and fixed mindset (a view that those same traits as inherently stable and unchangeable over time). According to Dweck's theory, Blue's growth mindset can make the difference when it comes to success, because she sees every challenge is a learning opportunity. Whether Blue becomes an entertainer or does something completely outside of the industry, the value of perseverance will take her far.






The Sky's the Limit
When your mom is Beyoncé, it's hard to think that there are things you can't do. And while she definitely leads by example, Bey has told people that she wants to make sure her girls know that their opportunities are endless. "As the mother of two girls, it's important to me that they see themselves too—in books, films, and on runways," Bey told Vogue in 2018. "It's important to me that they see themselves as CEOs, as bosses, and that they know they can write the script for their own lives — that they can speak their minds and they have no ceiling."
Haters Gonna Hate
Forget the playground. The biggest bullies in the world are on social media these days. And when your parents are some of the hottest stars on the planet, you've got to be ready for folks to come at you from all angles. At only 11, Blue Ivy has already experienced her fair share of hate. But she continues to perform with a smile.
Build Your Tribe
While there are plenty of internet bullies hiding behind their computers, Blue has just as many internet aunties ready to wrap their arms around her and protect her from the hate just like she was one of their own. When proud grandma Tina Lawson posted this video of Blue performing on stage with her mom in heels, the comments lit up with messages of encouragement from proud fans.
One fan wrote, "I get emotional when i see her! I just love it!!!! 😢😍😍😍😍"
Another wrote, "💙 I'm so proud of Miss Blue Ivy and I'm loving how the fans are showing love and being supportive our internet niece. It's a lot for a kid to take in, but she's handling it great. What a time…I've been a fan since day 1 of Destiny's Child and in 98, never did I imagine the day we'd be seeing Beyoncé performing with her own child. Time flies. 💙
That social media support can have a positive impact. According to Psychology Today, belonging to a tribe has plenty of benefits, including enhanced social connections and a deeper sense of support. People who have a strong sense of group identity are also "impacted less severely and recover more quickly when they experience bias or bigotry."
Be Yourself
Blue Ivy was born into the Bey Hive, so she has a built-in fan base that has been cheering her on all the way. But as she comes into her own along the tour, she's building a fan base of her own.
"This Blue Ivy's tour now!" wrote one on TikTok. "She could've given up from the criticism when she first started but she got better every time, and I respect it! Love to see it. ♥️♥️" commented another.
Momma's Got You
As parents, one of the best ways we can encourage our kids to be their best is by letting them know that we're always in their corner. Kids are less likely to be afraid of falling when they know they have a safe place to land. When you see the pride on Beyoncé's face when she's watching Blue Ivy perform, you know that kid is loved and protected. In a 2020 British Vogue interview, when asked for her best advice for other parents trying to talk to their children about the harsh realities of our time, she said, "Love them harder than ever."