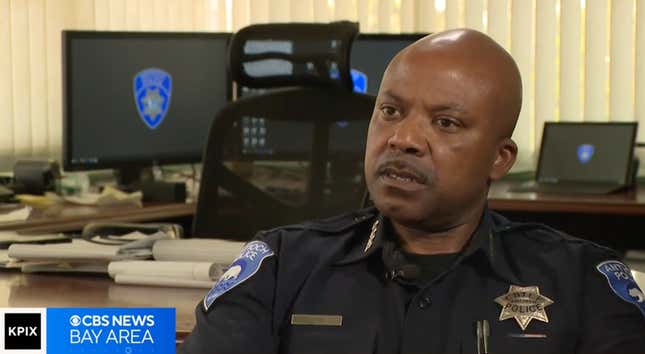 The latest update in what's going on over at the Antioch Police Department is not another development in the racist text scandal but a loss nonetheless. According to NBC Bay Area, Police Chief Steven Ford resigned from the department after vowing to reform the department amidst this mess.

Fighting "Lie-abetes": How To Spot And Combat Disinformation and Conspiracies In Politics | The 411: Part 2
Ford worked with the San Francisco Police Department for 32 years before he came to Antioch. He then worked as interim chief for six months before being sworn in as chief permanently in November of 2022. The report says the department was already under investigation by the time he took the job. Nearly half of the department was accused of sharing a slew of offensive and obscenely racist messages that were exposed by a local judge. Now, the FBI, Costa County District Attorney and California Attorney General's Office have launched probes into the department and whether the disgusting banter officers shared affected the way they treated citizens… or even the mayor.
When Ford first spoke out about the messages, he expressed that he was angered and shocked by what he'd read from colleagues he'd trusted but believed the department was worth saving.
"We're doing a deep dive just to overhaul the psychology of the organization and get everybody kind of realigned in terms of what their role is, you know, what are we here for? ... But diversity, equity inclusion training is absolutely essential. It's essential. We have it already. Obviously, we can do more of it," he told CBS News.
It's safe to say Ford came right in the thick of it, having to restaff and reform the department after dozens of suspensions, one termination and a lawsuit filed by several citizens. However, in his goodbye, he seemed satisfied with the condition in which he's leaving it.
Read more from NBC Bay Area:
In a letter addressed "To the Antioch Community," Ford said he was grateful for the opportunity and has worked with "some very talented and passionate people - it has been a great privilege to learn and grow from them."

"I am proud of what we have accomplished and firmly believe the groundwork has been laid for organizational success," Ford wrote. "I know our work to align us with the tenants of Procedural Justice and Constitutional Policing will keep this Department headed in the right direction. I sincerely hope our engagement with the Community will continue and flourish."

Ford said in his letter Wednesday night that he attributed the department's "numerous accomplishments to support from the City Council, the tremendous Citizens of Antioch, and the talented members of this Police Department, who continue to embrace organizational changes with enthusiasm and dedication," he wrote. "Because of this, the Antioch Police Department has become more inclusive, equitable, and a better place to work."