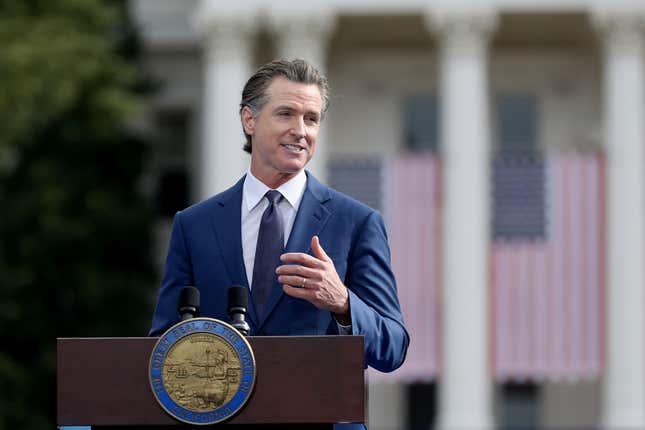 California's massive budget deficit has been a hot topic for the last few months, but one of the proposed "solutions" has some Californians up in arms. As a part of California Governor Gavin Newsom's proposed budget, he pushed for an end to public disclosure of investigations into police misconduct by the state commission, shifting the responsibility to local police departments.
Easy Beauty Hack Doubles As Primer While Protecting Your Skin
Anyone who's been paying attention to the way police departments handle misconduct likely understands the controversy. The proposed change drew swift criticism from criminal justice and public transparency advocates, including the ACLU and over twenty other stakeholders. Many of these groups fought tooth and nail for the landmark police reform bill, which included these disclosure requirements.
In 2021, Governor Newsom signed legislation creating a system for the state to investigate and revoke or suspend police officers for serious misconduct, such as excessive force, sexual assault, bias, and dishonesty. As a part of that legislative package, the bill also required the commission tasked with investigating and decertifying officers to keep these records public.
At the time, Newsom loudly celebrated the legislation. "Today marks another step toward healing and justice for all," said Governor Newsom in a 2021 press release. "Too many lives have been lost due to racial profiling and excessive use of force. We cannot change what is past, but we can build accountability, root out racial injustice, and fight systemic racism. We are all indebted to the families who have persevered through their grief to continue this fight and work toward a more just future."
Now, his office is proposing to get rid of the public transparency section of the bill. The commission told the Associated Press that the public can now get these records from local police departments. But opponents of this change say that allowing these departments control over these disclosures is a mistake.
"To say, 'go to the very people who commit the crimes against your community and ask them to reveal themselves to you," Antioch Mayor Pro Tem Tamisha Torres-Walker, told the AP, "so that you can hold them accountable,' I don't think that's a fair process."