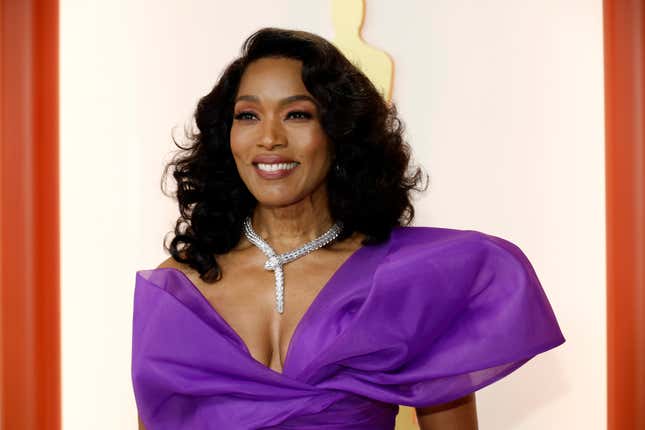 Stop me if you're a Black woman who's heard this one before: you do the hard work of lifting everyone up and making sure projects exceed expectations, but when it's time to get credit for your effort, someone else—usually a white colleague—is honored. It's a familiar situation for Black women because we live it literally every day of our lives.
2023 Oscars: Ruth Carter On Turning Angela Bassett Into A Queen Through Costume
Angela Bassett's loss at the Oscars on Sunday is just another example of Black women deserving their due and being rejected by a system built to devalue their contributions. And before you show up with your "she got all those other awards" comments, this is about the Academy having an opportunity to recognize a superbly talented, beloved member of its industry, and making a safe choice. This isn't about Jamie Lee Curtis, it's about how this feels like we've once again had the rug pulled out from under us.

Bassett's face when Curtis' name was called tells you everything you need to know. That wasn't just disappointment over losing an award, that was a "not this shit again" look. Every Black woman who's been forced to stand in a meeting and applaud while a mediocre white guy gets the promotion she actually earned knows that look. I'm sure Beyoncé had a similar look at some point on Grammys night after losing Album of the Year.
For Black women, Angela's disappointment was an all too familiar feeling. Maybe that's why the reaction online was so strong. Though we really wanted this for the Black Panther: Wakanda Forever star, it also feels like we could see this one coming. Frequently, when Black women are up for a big promotion or raise, everyone suddenly starts treating them differently. Then their boss informs them that their co-workers think they're "difficult," "uncommunicative," or "uppity." It's a smear campaign designed to keep us in our place.

A very public version of this played out in the weeks before The Oscars. "Anonymous ballot" stories, where Oscar voters describe their choices without the fear of being identified, began to pop up on sites like The Hollywood Reporter and Entertainment Weekly. While these articles are regularly published before major awards ceremonies, the ones for the Oscars were particularly racist and misogynist.
In Entertainment Weekly, a voter, described as a "longtime actor," said this about The Woman King's snubs: "Viola Davis and the lady director [Gina Prince-Bythewood] need to sit down, shut up, and relax. You didn't get a nomination—a lot of movies don't get nominations. Viola, you have one or two Oscars, you're doing fine."
First of all, Prince-Bythewood is an acclaimed, talented director, so put some damn respect on her name. Secondly, no one ever tells Meryl Streep to "sit down, shut up, and relax" because she has so many Oscars. Because we're not allowed to be too confident or assertive, he feels completely comfortable saying this about Black women who are just advocating for themselves and their art—something everyone does during awards season.
We're not asking for special treatment. We just want our effort and hard work to be appreciated on the same level as everyone else's. Angela Bassett delivered a brilliant performance, received multiple awards for her work, but when it was time for the big one, she wasn't let in the door. She will win an Oscar one day, because she's just that damn good, but that doesn't take the sting out of being passed over again.