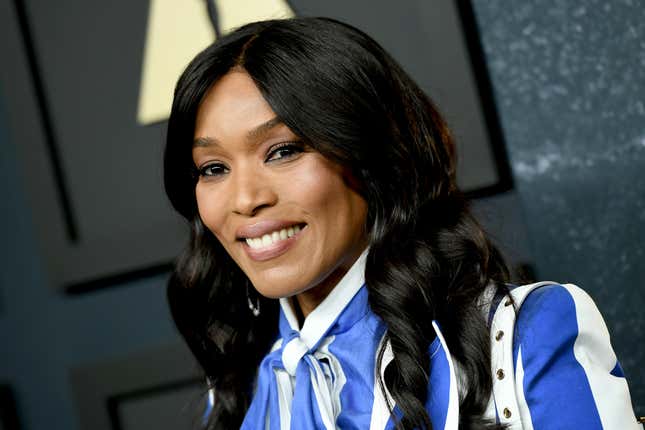 We all knew Black Panther: Wakanda Forever was going to be emotional. As excited as we were to return to Wakanda, watching the characters we'd come to think of as family mourn both King T'Challa—as well as Chadwick Boseman—would be difficult.

2023 Oscars: Ruth Carter On Turning Angela Bassett Into A Queen Through Costume
Our expectations were proven to be true during the film's beautifully moving opening scene. As Shuri frantically works to cure her brother's illness, Ramonda appears to tell her that T'Challa "is with the ancestors." During T'Challa's funeral, it quickly becomes apparent the cast and crew were saying goodbye to the character and the actor. At the 2023 Oscars Nominee Luncheon, Angela Bassett told SiriusXM's The Jess Cagle Show how the unforgettable scene came together.
"We were out in the woods in the elements of tall trees. The rain that was threatening, so we're trying to move it along," Bassett told Cagle. "Everyone was splendid and beautiful in the white, in the different attire. Dora Milaje, all the different tribes. Seeing the casket with the engraving of the sculpture, the engraving of the Black Panther on top of the casket. We did get it done. I thought maybe we were gonna have to return to shoot more of it, but I suppose we got everything that we needed in that moment. Then we moved on to the processional. That was the intimate, private memorial for my son, for the king, and then to the city for the masses, for the people who loved him."
Like many Black families, T'Challa's funeral is both a celebration and a homegoing. The hero holds a special place in fans' hearts, and his memorial has the right mix of joy and reverence.
"To see the dance, to see the joy and to juxtapose the sadness with the joy of his life. The celebration of a life well lived, of someone beloved," she said. "It felt appropriate for the character and appropriate for Chadwick. And I remember we are going down the boulevard, the processional there, and then we cut and returned to our first position to turn around and to see this gorgeous rendering of him on the side of the building. I thought, 'What a big heart. How special is this production designer? Is this director? Are these producers? That we chose to do that?' It was stunning."
Bassett is nominated for an Academy Award for Best Supporting Actress for her absolutely brilliant performance as Queen Ramonda. You can find out if her masterclass in acting will be honored at the Oscars, which air live Sunday, March 12 at 8 p.m. ET/5 p.m. PT on ABC. Black Panther: Wakanda Forever is available on Disney+.