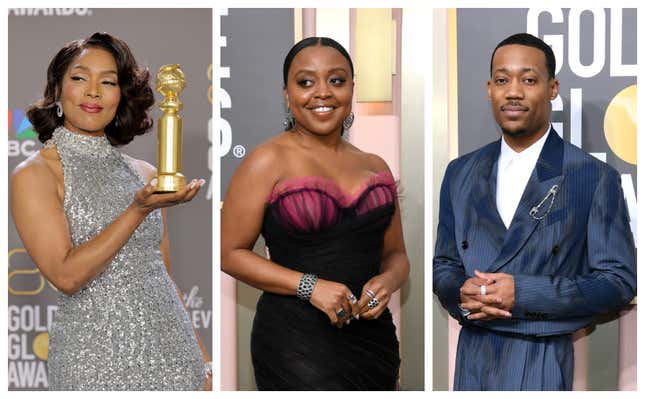 On Tuesday, the 2023 Golden Globes went off without a hitch.

Airing live from the Beverly Hilton in Los Angeles, the 80th annual ceremony was hosted by a stylish Jerrod Carmichael, who didn't shy away at dryly poking fun at the Hollywood Foreign Press Association's lack of inclusivity scandal (or Will Smith *nervous laugh*) all throughout the night—despite the awkward laughs, smiles, and stares from folks in the audience. (Seriously, it was almost like people were afraid to laugh, which, I guess, but also—y'all are there so why be stiff?)
Kerry Washington On Longevity In Hollywood For Black Women | Securing the Bag: Part 3
Speaking of audience, the scandal didn't seem to be enough to keep heavy-weight stars from showing up and enjoying the festivities, though. Folks like Angela Bassett and hubby Courtney B. Vance, Viola Davis and hubby Julius Tennon, Ryan Coogler and wife Zinzi Evans, Letitia Wright, Donald Glover, Quinta Brunson, Jennifer Hudson, Billy Porter, Niecy "Snatched Waist" Nash-Betts and her wife Jessica, Regina Hall, Colman Domingo, Jay Ellis, Jeremy Pope, Nicole Byer, Eddie Murphy, RIHANNA (!!!) and A$AP Rocky, and more were all in attendance.
But you didn't come here to read about who all was sipping champagne for the three-hour ceremony, you came for the Blackity-black WINNERS. And here they are, in no particular order:
To view the complete list of winners, visit goldenglobes.com.