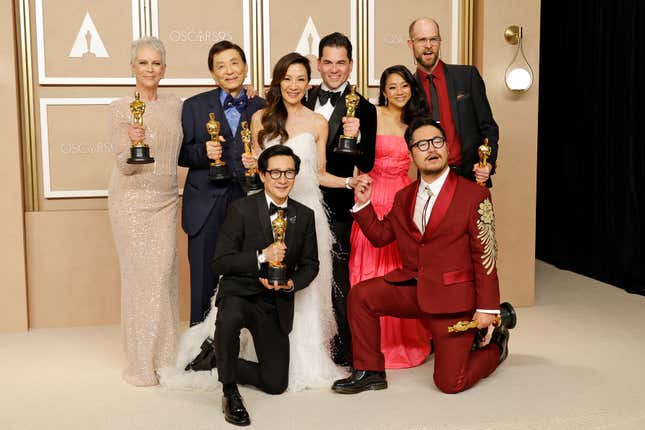 I know we normally stick to Black art, but when a film is so special and so important in its representation, it's worth highlighting–and that's exactly how I feel about Everything Everywhere All at Once.

It follows Oscar-winner Michelle Yeoh's Evelyn as she travels through the multiverse trying to defeat the all-powerful Jobu Tupaki. In the end, it's the love of her family—played by Oscar-nominee Stephanie Hsu and Oscar-winner Ke Huy Quan—that pushes her in the right direction. This lovely Asian family is portrayed flaws and all, through ups and downs. Yes, loud, ass kicking representation like Black Panther: Wakanda Forever is crucial, but so is quiet, everyday representation like this. They both showcase a world where our lives are just as influential and captivating as other communities. It's a beautiful, unique, thrilling film–something we don't get enough of from movies nowadays.
While speaking to the press after her win, Yeoh spoke about her historic night being a victory for everyone who's ever felt like they've been othered.
"This is actually a historical moment, and I have to thank The Academy for acknowledging, embracing diversity and true representation," Yeoh said. "I think this is something that we have been working so hard towards for a very long time, and tonight we freaking broke that glass ceiling. We need this because there are so many who felt unseen, unheard. It's not just the Asian community. This is for the Asian community and anyone who has been identified as a minority. We deserve to be heard; we deserve to be seen; we deserve to have the equal opportunity so we can have a seat at the table. That's all we're asking for. Give us an opportunity. Let us prove we are worth it."
On Sunday night, Everything Everywhere All at Once took home awards for Best Supporting Actor; Supporting Actress; Original Screenplay; Film Editing; Directing; Actress; and Best Picture. The movie dominated awards season, so all these wins aren't surprising, but that doesn't make it any less worthy of celebration.
G/O Media may get a commission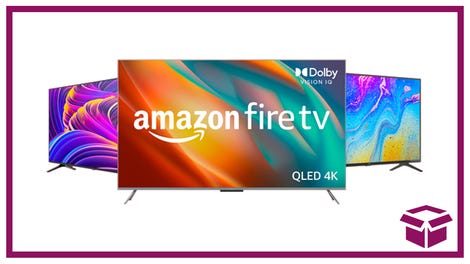 Ooh. stunning.
New Amazon Fire TVs
When someone uses their art to tell a fascinating, unforgettable story about their community, we should give them their props because we as Black people know first hand how hard it is to get those movies made. And with this being a film that sticks with you even after it's over, you wonder about Evelyn's many lives and the choices that could have gone differently in your own life. Simply put, this film is a breath of fresh air, which makes all this success so beautiful. Hollywood doesn't always appreciate something new when it's breaking barriers. In a world based on box office dollars and streaming numbers, it's easier to do the safe thing. Perhaps Everything Everywhere All at Once is opening a door to a universe where movie studios suddenly appreciate originality and more importantly, allow for more diversity at the box office.