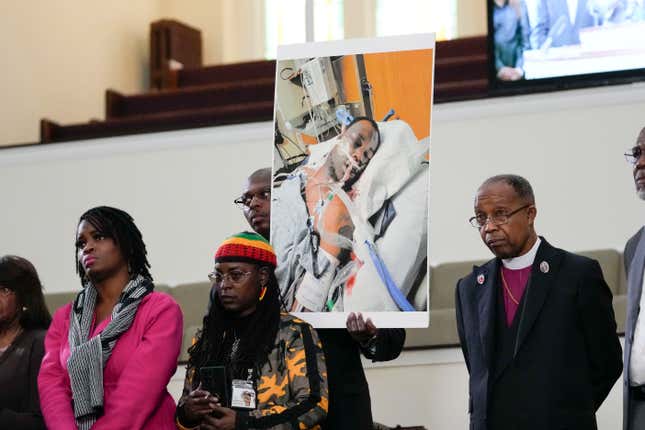 Upon the conclusion of the Memphis Police Department's investigation into the fatal beating of Tyre Nichols, the city promised the public an additional 20 hours of video and audio evidence. However, before its expected release, the court put a block on its release, per The New York Times. That's not the only evidence taking forever to be released.
A judge put a temporary block on the public release of the over 20 hours of additional footage because the attorney for Desmond Mills Jr., one of the five officers criminally charged in the beating, had requested it. Mills along with Tarrius Bean, Demetrius Haley, Emmitt Martin III and Justin Smith are facing a slew of charges—including second-degree murder and kidnapping—after senselessly beating Nichols during a traffic stop. Lawyer Blake Ballin asked to delay the release until the prosecutors and all the lawyers representing the five had the chance to review the materials to avoid compromising the potential jurors.
Who knows how long that's going to take?
Read the response from city officials, via CNN:
The Shelby County District Attorney's Office indicated in a statement Wednesday it supported the decision to release the "remainder of the video footage in the investigation."

"Regarding other material planned for release, our office needs to review it carefully to ensure it doesn't prejudice the defendant or jeopardize our prosecution," it added.

Ballin's motion and the court order were "the result of the need to balance the interests of transparency with the defendants' right to a fair trial," he said in a statement.

"Police department investigations often uncover evidence that is irrelevant, prejudicial, misleading or inadmissible," he said. "The order issued today will allow all parties to review the information that the Memphis Police Department wants to release to ensure that the public is not exposed to such evidence."
The initial batch of videos from body cameras and the "sky cop" street camera showed Nichols getting pulled over and asking for the reason for the stop. Without giving him an answer, the responding officers asked for his ID, dragged him out of the car, and began beating and pepper spraying him. When he ran down the street, another group of officers met him on the corner just feet away from his house where they punched, kicked and tased him repeatedly, per the footage.
It's not only the video footage we're missing.
We still don't know the findings from his official autopsy. His family commissioned an independent autopsy which found he suffered extensive bleeding caused by a severe beating, per the preliminary findings. Nichols' mother, RowVaughn Wells, said she believed his nose and neck were broken when she saw him in the hospital.
Family civil rights attorney Benjamin Crump didn't specify when the full autopsy was going to be released. There's nothing for Memphis to hide now. We've seen the ugly already.