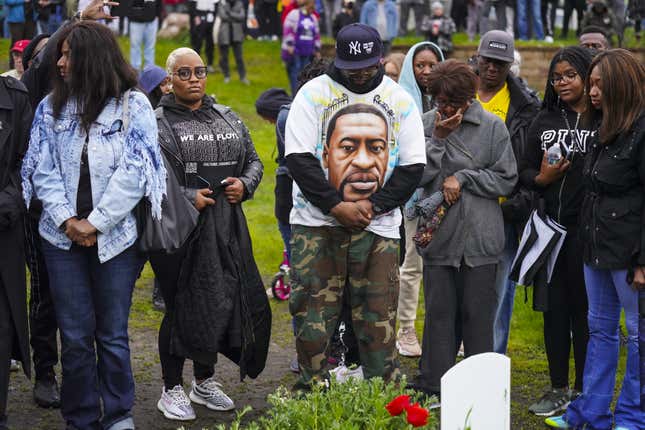 The murder of George Floyd by Minneapolis Police Officer Derek Chauvin sparked a racial reckoning across the United States in 2020. Now, the city of Minneapolis, Minn., has reached an agreement with the state to transform its police department and address racially-biased policing practices.
Black Musicians Are Not A Monolith: Bartees Strange Discusses Anti-Blackness In The Industry
The new agreement, which the court system will enforce, is a direct reaction to the Minnesota Department of Human Rights' investigation into Minneapolis' policing practices after Floyd's death. The report found that the city and police department engaged in a "pattern or practice of race discrimination in violation of the Minnesota Human Rights Act."
The investigation was damning. Despite Black residents making up 19% of the population, 63% of use of force incidents were against Black people. This new plan promises to address the major concerns outlined in the investigation. But the question remains whether this new agreement can fix the deep-rooted issues that led to Floyd's death.
First, it's worth understanding what this plan actually does. The agreement would require police to:
Require officers to de-escalate
Prohibit officers from using force to punish or retaliate
Prohibit the use of certain pretext stops
Ban searches based on alleged smells of cannabis
Prohibit so-called consent searches during pedestrian or vehicle stops
Limit when officers can use force
Limit when and how officers can use chemical irritants and tasers
Ban "excited delirium" training
Many of these changes are aimed at preventing the kind of deadly force that caused Floyd's death. For those who don't remember, Floyd was pulled over by police after a store clerk accused him of using a counterfeit $20 bill. Police said he "appeared to be under the influence" and ordered him to leave the car. After handcuffing him, Chauvin pinned Floyd to the ground with his knee on his neck for nine minutes, killing him.
Some community-based criminal justice groups are concerned that the new agreement doesn't go far enough to hold police accountable.
"This settlement agreement states the city and Minneapolis Police Department did not and do not admit or agree with the Minnesota Department of Human Rights' findings," said Rev. Ian Bethel, a Unity Community Mediation member. "That's neither transparency, it's not accountability, nor the consequences that this community demands."
His concerns are that although the department has to agree to certain changes to their behavior, they don't have to admit previous wrongdoing outlined in the state's investigation into their practices.
However, advocates for the agreement, like Minnesota Department of Human Rights Commissioner Rebecca Lucero, have argued that because the deal is court-enforced, it will have the teeth to accomplish its outlined goals.
"Minneapolis community members deserve to be treated with humanity. This court-enforceable agreement provides the framework for lawful, non-discriminatory policing, reduces unnecessary dangers for officers, and results in better public safety for Minneapolis," said Lucero.
While many of these reforms have the capacity to bring about change, after decades of mistreatment, it will likely take a lot more than a new plan to foster anything resembling trust between Black residents and the Minneapolis Police Department.