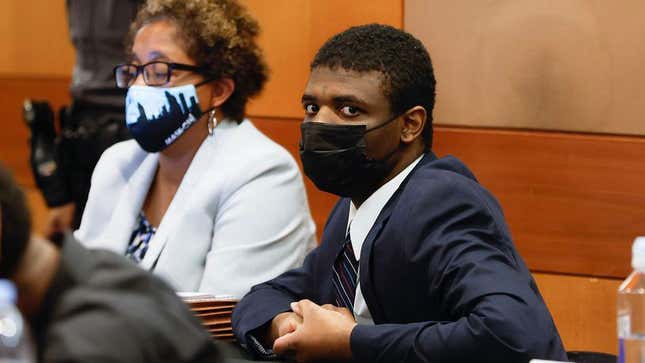 A lawyer representing one of 14 defendants in the Young Slime Life gang case believes that her client is entitled to a mistrial. The trial is currently happening in Fulton County, Georgia.
Comedian London Hughes Talks New Book, Parents Watching Her Very Sexual Comedy, & Beyoncé
Gina Bernard, who is representing defendant Jayden Myrick, filed a motion Tuesday saying that her client had his Sixth Amendment right to an impartial and fair jury violated.
She argued that a leaked interrogation video that surfaced online is an obstacle to building an unbiased jury that Myrick simply can't overcome. Bernard wrote:
"While said evidence may not directly implicate my client, it along with all of the publicity and courtroom incidents since the start of this trial ... make it impossible for him to receive a fair trial, as well as a jury that is honestly and truly fair and impartial."

Myrick was previously sentenced last year to life in prison without parole for the July 2018 killing of Christian Broder, who was shot to death after a wedding. Officials say Myrick and co-defendant Torrus Fleetwood saw four people waiting to be picked up outside the Capital City Country Club and proceeded to rob them at gunpoint.
When Broder tried to get his license back, Myrick shot him in the stomach. He was ultimately convicted of armed robbery, murder, aggravated assault and 13 other counts in that case.
Bernard's motion is a result of a video being published online that allegedly displayed a YSL associate speaking with Atlanta detectives for almost four hours after his October 2021 arrest.
The footage was uploaded to YouTube and a few other sites. According to prosecutors, it was seen millions of times. During the interview, YSL Woody, born Kenneth Copeland, offered information to police about their ongoing gang investigation in exchange for leniency.
The case has rapper Young Thug—born Jeffery Williams—at its center. Prosecutors allege that the artist is the leader of YSL, a street gang responsible for violence in Atlanta. However, Williams' lawyers claim that YSL is merely a record label and nothing more.