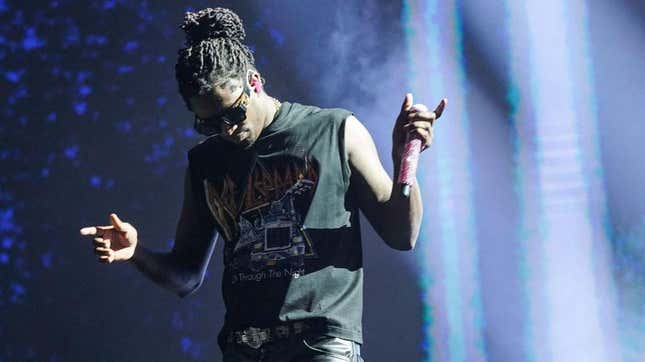 The legal problems for Young Thug are stacking up, and this one might be the most outlandish.
T-Boz & Chilli Tell Their Story For The First Time In TLC Forever, Our TV Pick This Week
Video obtained by WSB-TV allegedly shows Thug and co-defendant, Kahlieff Adams, making a drug exchange during his RICO trial in the courtroom in front of the jury, lawyers, witnesses, deputies, etc.
The surveillance footage shows Adams approaching Thug as he's sitting next to his attorney in court and allegedly handing the Atlanta rapper a Percocet, a drug used to relieve pain.
As seen in the footage, a deputy saw the exchange and immediately confronted the "Hot" rapper, who handed the pill over. According to WSB-TV, deputies started to search Adams once they confiscated the pill from Thug. The deputies found more Percocet, marijuana and tobacco wrapped in plastic with food seasonings to hide the smell of the weed.
To hide some of the substances, Adams swallowed some of the drugs and was taken to a local hospital.
I've never been to court before, but one thing I do know is that you shouldn't try to exchange drugs while in the courtroom, especially when you're one of the defendants on trial.
Shortly after the exchange, prosecutors filed a motion, requesting the court to, "make a finding of fact that Court was delayed on January 18, 2023 because of the actions of Defendant Williams and Defendant Adams."
Although Thug can be seen in the footage allegedly being handed a Percocet, his attorney claims that he had "nothing" to do with the drug exchange, saying, "One of the co-defendants, on his way to the restroom, attempted to pass something to Mr. Williams, who immediately turned it over to the deputy. … Did not know what it was, turned it over to the deputy right away."
While Thug and his attorney are denying any involvement in this drug exchange, this only makes his legal troubles even worse. He's already on trial for violating RICO laws, and allegedly co-founding a street gang that is responsible for a plethora of violent acts including attempted armed robbery, aggravated assault with a deadly weapon and murder.
According to WSB-TV, Thug and his attorneys have claimed YSL is just a record label and fashion brand, nothing more. But, if the Atlanta rapper is arrested, he faces up to 20 years in prison.