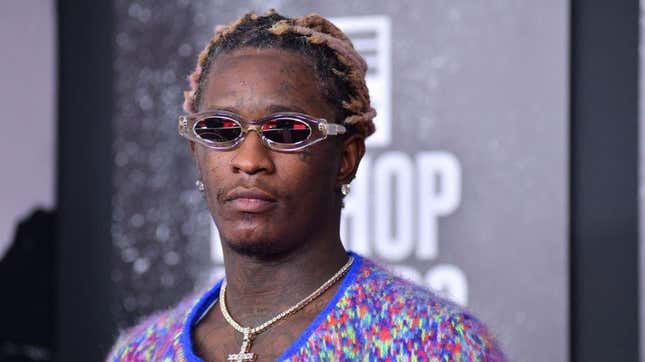 Although Gunna was able to make it home, his fellow YSL member Young Thug is still stuck in jail and set to go to trial.
Mixtape Docu-Film & The Chi Season 6 Are Our TV Picks This Week
Remember, they both were both arrested and charged in May 2022 in a 56-count court indictment. But, last month the "pushin p" rapper and his attorneys negotiated an Alford plea, which allows Gunna to plead guilty on one charge because it's in his best interest while maintaining his innocence on the same charge. Young Thug on the other hand has not been released from jail and has not been offered a plea deal of any kind.
On Wednesday, jury selection in the trial of the So Much Fun rapper started. He is charged with one count each of conspiring to violate the state's Racketeer Influenced and Corrupt Organizations (RICO) Act and participating in criminal street gang activity. Later, he was charged with another count of participating in street gang activity, three counts of violating the Georgia Controlled Substances Act, possession of a firearm while committing a felony and possession of a machine gun. He has pleaded not guilty on all of the counts, according to ABC News.
In December, a grand jury charged Thug with four more counts including street racing, reckless driving, speeding and more.
On Tuesday, a day before jury selection began, WSB-TV obtained the potential witness list that could be named in Thug's defense. The names on the list include Young Thug's fiancée; Killer Mike and other "music executives." Potential witnesses for the prosecution against Thug include many rap figures including Lil Wayne, Birdman, Rich Homie Quan and YFN Lucci.
Although, Lucci's attorneys say that their client will not be testifying in the case despite being named as a potential witness, claiming he "has never been interviewed or subpoenaed by law enforcement, the Fulton County District Attorney's office or any of the party's regarding the YSL case," according to WSB-TV.
The potential witnesses for Miles Farley aka Slato or Lil Miles, one of Thug's co-defendants, also include some notable rappers such as T.I., Future and Trippie Redd.
Farley is the alleged creator of the clothing brand Make America Slime Again and was also named in the indictment with Thug and other YSL members. The indictment claims Farley and three others murdered Shyml Drinks. He is also charged with participation in a criminal street gang and gun possession charges.
More from WSB-TV:

Prosecutors allege that Williams was one of the founders of YSL, or Young Slime Life, an alleged criminal street gang accused of committing violent crimes, including murder and armed robbery from 2013-2022.

Defense attorneys argue that the allegations are false, claiming YSL is a clothing company and record label, also known as Young Stoner Life.

Originally, the indictment charged 28 defendants, but eight have since taken plea deals and six others will be tried separately.
Young Thug is set to go to trial next week.