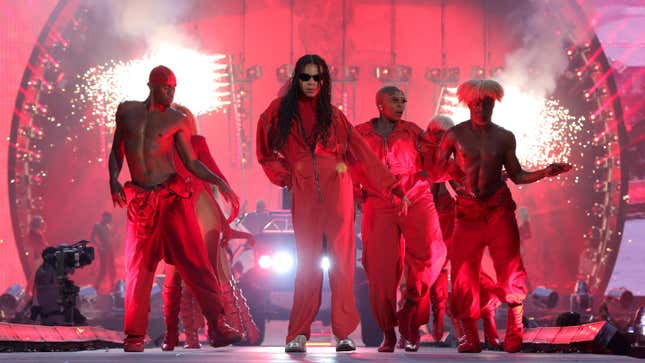 In news that can only be described as "IKYFL," YouTuber Tasha K has taken a break from figuring out how she's going to pay rapper Cardi B. the $4. 25 million she owes her for defamation to run her mouth about yet another famous person: Blue Ivy Carter. Yes, Beyonce and Jay-Z's Blue Ivy Carter. I'll explain.
The Root Staff Reacts To The 2023 Grammy Awards Big Wins, Best Looks, & More
As we're all aware, the 11-year-old accompanied her mother on a few dates of the Renaissance Tour overseas, much to the excitement of attendees. However, in a recent video on her YouTube show Unwine with Tasha K, the blogger threw shade at the child's dancing skills and Bey for letting her get up there with her in the first place.
"Everybody knows Blue Ivy was very stiff up there. Beyonce just gon' tell this girl that she got it," Tasha said. "We've seen 13-year-old girls from the hood out-dance and hula-hoop her! I like Blue Ivy, I think she's beautiful, I think she's going to be a model. Her momma already has her life being set up. But her momma has to be honest with her and tell her the truth."
She went on to say how she wanted the "Virgo's Groove" singer to take a trip down to the projects in Houston and leave Blue at a recreational center for one week so that she can "loosen up."
"I just think Blue Ivy need a little bit of tweaking. Maybe [the] next tour, but if I'm paying $2,000 to see, I don't want to see a robot up there. She look like the iRobot that be vacuuming my floors," she concluded.
Naturally, her comments did not sit well with members of the Beyhive. But after many of them took to social media to air their grievances, Tasha doubled down during an Instagram Live session, saying in part:
"Y'all so motherfucking sensitive that can't nobody say nothing, like they the Carters, they the royal fucking family. Fuck out of here," she said. "They take shits just like I take a fucking shit and if you put your daughter onstage and she interrupting my entertainment, I'mma motherfucking say something because at the end of the day, I'm a patron of this here motherfucking show. Where is Ashley [Everett, Bey's former dance captain.] Ashley should've been working with her before she got on stage. Where Ashley at?"
She continued:
Yeah, she a child but at the same time, for those of y'all who was in cheerleading camp and dance camp, hula-hoop camp, Color Guard—you got cussed out by your instructors too. And she bringing her into a world where people are not going to be as nice. And if you gon' put her on something, like I said that I'm paying for, she need to break it down.

Ain't nobody telling her to bend over and shake her ass, I'm just asking her [to] oil her up. Put some baby oil on her, shit. I ain't say nothing bad about that little girl and if I did—what the fuck you gon do about it?"
She later added: "Yeah, she having fun with her momma—have fun on your own time. Don't have fun on my paid time, I'm going to the show. Don't have fun on my paid time."
Tasha, Tasha, Tasha. Have you learned nothing after a nearly three-year-long litigious battle with Cardi B? I understand talking about celebs is your bread and butter but girl, you slipped down this slipper slope of defamation once before and look at what it costs you. Was that ride really worth a repeat? You might want to tread lightly because if you don't—this probably won't end well for you.