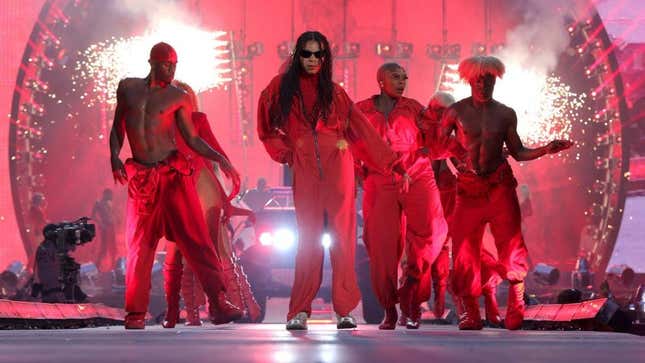 We all love Beyoncé. Unless you want to feel the wrath of the Beyhive, not a person alive is brave enough to criticize one of the best performers in human history.
Questlove On Going To School With Boyz II Men & Other Music Greats | Securing the Bag: Part 2
But, she hasn't even been the breakout star of her own Renaissance World Tour, that would be her daughter, Blue Ivy.
Although millions of fans have poured into stadiums across the world to watch Queen Bey perform, Blue Ivy has stolen the show many times.
Weeks ago, she made a surprise appearance at her mother's show in Paris, where she was seen joining her for a performance of "My Power," from The Gift.
Over the weekend, Blue Ivy joined her mother again onstage in Barcelona, Spain. While getting ready to perform another dance with her mother, the 11-year-old was shocked to see a sign that read, "Go awf Blue! #IvyLeague."

That's right, Blue is so popular that she now has a name for her fanbase, the "Ivy League."

But this isn't just something that began in the last few months. In 2017, Black Twitter assigned the name to Blue Ivy stans as she was growing in fame due to some of her short, but beloved appearances at public venues.
She's also outpacing her parents in terms of career accomplishments. Before she's even a teenager, the 11-year-old has two gold plaques for her musical contributions to the 2013 track "Blue" and the 2019 track "Brown Skin Girl." The former was featured on Beyoncé's surprise self-titled album, Beyoncé, while the latter appeared on The Lion King: The Gift.
Why is Blue Ivy so popular?
Being the daughter of two of the most accomplished, wealthy, and respected artists of the 21st Century helps. But there seems to be something else about her that has fans so in love.
First and most importantly, I think her parents were willing to put her in front of the camera at an early age.
In August 2014, Blue Ivy was brought on stage by her dad to give her mother the VMA Vanguard Award. She adorably stole the moment by saying "Go Mommy" in the mic.
Again, in January 2018, in one of the most iconic moments in recent pop culture history, Blue shushed and calmed down her parents during the 2018 Grammys.
I hate to sound like a Gen Zer, but in a world where social media controls everything, viral moments like that will make you a celebrity. Add in that her parents are music legends and boom, you have a superstar in the making.
Not to mention, she's shown some real talent as a dancer while on tour with her mother. As long as she stays funny, cute, and charismatic, I'm sure her following will only continue to grow.