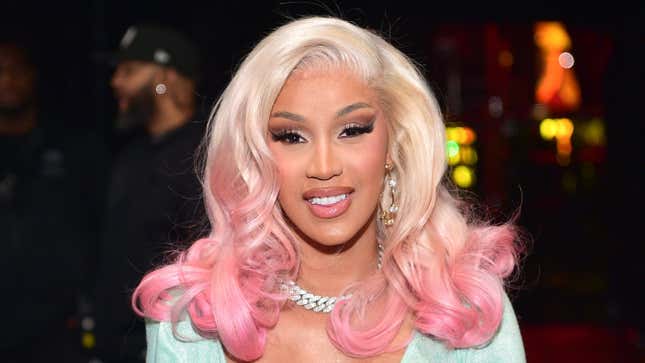 If aversion to the phrase "don't write a check with your mouth that your butt can't cash" was a person, it would be YouTuber Tasha K. Why? Because even after a long, litigious battle with Cardi B., that's resulted in her having to pay the rapper over $4 million, she still hasn't learned to keep her mouth shut. I'll explain.
The Root Staff Reacts To The 2023 Grammy Awards Big Wins, Best Looks, & More
On Wednesday, Tasha was caught redhanded once again speaking on Cardi's name, giving her commentary on her behavior after Migos rapper Takeoff's death. (Cardi's husband Offsett was also a member alongside Takeoff and fellow rapper Quavo.) After Cardi posted a video of her giving her two cents about the now viral submarine fiasco—specifically talking about her displeasure in how the son of one of the billionaires inside the submarine went to a Blink-182 concert instead of showing more concern for his father—Tasha jumped in the comments on Instagram to respond.
"Wasn't she posting guns right after Takeoff died? And on the internet cutting up after his sudden takeoff? I'm just asking...Everyone grieves diff..." Tasha wrote in the comments of popular social media account The Neighborhood Talk.
Naturally, the Invasion of Privacy rapper didn't take too kindly to her comments and responded in kind.
"And Tasha K with your despicable ass.. to bring up Takeoff to prove a fake ass point is disgusting. I lost weight, I couldn't eat, I couldn't sleep, me and my man STILL dealing wit that to to this day," she began. "I'm a rapper, we targeted all the time so of course I have guns for protection. But since you wanna be funny for comments, ima make sure your kid don't go to college. You think my lawyers don't know you hiding money in Africa? Ima make sure I get every red cent of my 4 mill. DONT EVER PUT TAKEOFF NAME IN YA MOUTH."
When other people in the comments started to come for Cardi for bringing up Tasha's kid, Cardi defended her stance, firing back:
"Y'all saying I'm talking about people's kids...I'm talking about how her mouth is going to affect financials for YEARS all because she can't stop talking but I'm wrong for saying that but it's cool for her to bring up my family we lost less than a year ago? Y'all saw me waving a gun after Take passed or literally months later on put it on the floor music video? But let me guess, I'm wrong as always."
After seeing the pile on and presumably feeling like she needed to respond to Cardi once again, Tasha posted an "apology" on Thursday morning. And by "apology," I mean a very sarcasm-laced note that may very well kickoff yet another legal battle between her and the "I Like It Like That" rapper.
"I wanna send a sincere apology out to #bardigang [Cardi's fanbase]. It's my fault as to why y'all don't have a 2nd album. She's been in court with me for 6 years distracted from her purpose," Tasha wrote. "Now going on 7. Atlantic is broke and won't help pay for a 2nd album, Offset in court fighting to release an album, and my sis-in-law sold the rights to her catalog off too early in her career. Now there is no money to produce the album. She is constantly taking car insurance ads to keep the lights on and pay lawyers to continue to chase me down for money I don't have."
She continued:
"I'm so sorry for distracting y'all queen! Between me and the surgeons, we owe y'all a huge apology. Atlantic refuses to give her any money to produce a second album because they took such a lost on her first album that she is now starting to promote 6 years later. Again, I'm so sorry. It's all my fault. But if you want music, real consistent music, please stream #barbieworld this Friday. #IceSpice is from where she is from and can give y'all the music y'all need instead of her giving y'all a #TashaKalbum."