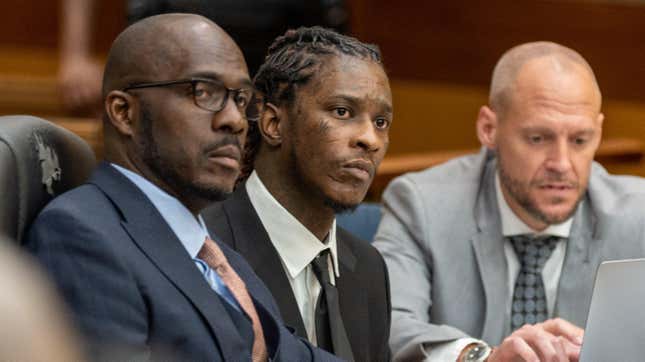 On Thursday (May 11), rapper Young Thug was hospitalized according to his attorney Keith Adams. Adams shared the information that the emcee, born Jeffery Williams, had "taken ill" in court during jury selection for his RICO trial. "I'm concerned about his well-being, his condition," he stated. Now, the attorney says his client is on the mend.
2023 Oscars: Ruth Carter On Turning Angela Bassett Into A Queen Through Costume
Adams told Vulture that same day: "Jeffery was not feeling well earlier, and the sheriff's office had him seen by medical personnel to ensure that he was okay. We expect to be back in court tomorrow as we continue to fight these charges and work toward getting him home."
Young Thug was indicted a little over a year ago, and has been in jail ever since. He was indicted on racketeering and several other felony charges as part of a RICO case against the alleged criminal gang YSL, a group that the musician has been been accused of being the leader of.
Jury selection started for the trial in January and is anticipated to last longer than originally expected because of the infamy of the case as well as the fact that several defendants are being tried at the same time. Weeks prior to Thug's hospitalization, his legal team motioned for him to be released on bond and stated that he was "languishing" in jail.
The attorneys had also made similar motions before. In the filing from April 24, they said that Young Thug doesn't get much sleep, hasn't received sunlight or fresh air and can't access healthy food. Per Vulture, Adams told the judge Thursday that the star "had some difficulty of a similar sort" as the one that led him to become hospitalized.
Gunna, another emcee arrested in the indictment and who is considered a mentee of Thug, was freed in December after he entered a guilty plea.