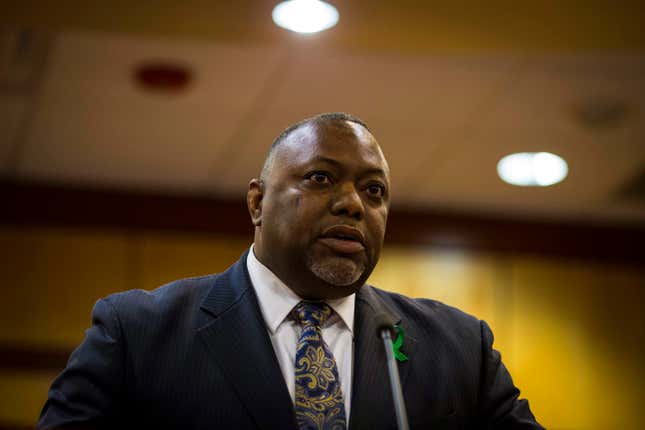 After a 6-year-old student shot and injured his teacher at Richneck Elementary, the Newport News school district was left looking like a deer in headlights. According to CBS 6 News, their latest plan of action was firing Superintendent George Parker III. Both staff and parents are left wondering what the decision has to do with addressing the shooting.

Parker served as superintendent for five years, the report says. In his departing statement, he listed out all the things he was able to help the district accomplish during his time. However, whatever work he did back then became irrelevant as soon as that 6-year-old shot first grade teacher, Abigail Zwerner.
"I wish Ms. Zwerner and the Richneck staff and community best wishes in their recovery from this unfortunate and tragic incident. I admire their bravery and the selfless love that they have demonstrated for each other and their students," read the statement.
I wouldn't be too quick to cite "bravery" as the staff were accused of ignoring several warnings that there was a child with a firearm in the school, per Zwerner's attorney. At town halls this month, parents raised a number of complaints about how the district handled (and could have prevented) the situation as well as citing violent student-teacher incidents that happened prior.
Though some school board members agreed leadership should take the blame for the situation, others were not convinced Parker's termination addressed the safety concerns of parents whose children could have been killed.
"Getting rid of someone is not going to particularly fix this problem. This is not a Newport News problem, this is a gun problem," said Gary Hunter, the lone school board member who opposed voting Parker out.
Upon the pending investigation and unclear strategy on how to make the district schools gun-free, Richneck Elementary students are expected to return to school Monday.
Read parents' reactions from CNN:
The school has been closed since the shooting, with plans to return Monday. And with the first day back looming, parents like Mark Garcia Sr. are expressing their concern. His son is in the student's class, he told CNN, and has been distraught since the shooting.

"This is a scary situation, my son is still scared," Garcia told CNN. "He wants to go back to school, but he just wants to know that he's gonna to be safe, and that's the biggest thing."

The school's alleged failure to act is "horrifying," Garcia said, adding, "The people who know about this failed us and they failed the security measures of everyone that's inside of that school."

Kasey Sypolt, the mother of a fifth-grade student at Richneck Elementary, hopes school officials will take the teachers more seriously in light of the news that administrators were warned prior to the shooting.

"Am I 100% comfortable sending him back? No," Sypolt said of her child. "But I am hoping that the change in administration is going to make a difference, that they're going to listen to teacher concerns and take things a little more seriously now."