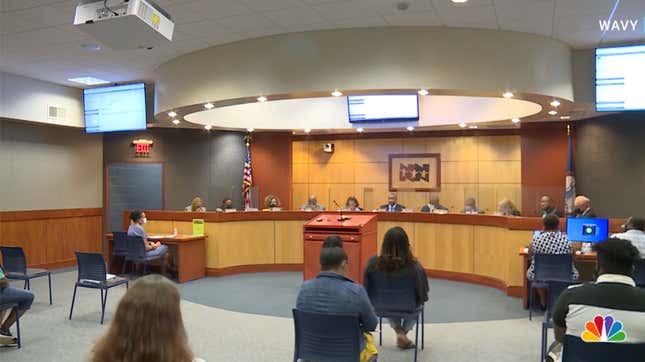 Updated as of 1/13/2023 at 2:00 p.m. ET

It was revealed during a town hall meeting that the elementary student in custody for shooting his teacher had his book bag checked that morning, per an NBC report. Superintendent Dr. George Parker III confirmed Thursday evening that an administrator was notified of a possible weapon.
American Ninja Warrior: Season 15 Is Our TV Pick of The Week
The same question must be looming in everyone's mind. How did he make it to his classroom with the weapon despite the tip?
"-A school employee was notified of a possible firearm at Richneck Elementary before the shooting occurred. The Newport News Police Department was not notified of this information prior to the incident," said a Newport News police spokesperson, via NBC.
The report says the police investigation found the 9mm Taurus firearm was bought legally by the student suspect's mother. However, it is still uncertain how he got a hold of it. It may be likely that his parents could be held criminally responsible.
As of now, the school board has decided to install metal detectors at all school beginning with Richneck. As far as the boy, he has been receiving treatment at a mental facility initiated by a court-ordered detention order. No other details regarding intention or the timeline have been disclosed.
Previous reporting on the case...
The six year old was taken into custody after shooting and seriously injuring a teacher, according to NBC News. No students were injured during the incident. The situation reveals a frightening reality: how vulnerable our students are while trying to learn. What's even more frightening is a child bringing a firearm into the classroom.

James Madison University identified the victim as alumna Abigail Zwerner. She suffered life-threatening injuries but is currently in stable condition, per a statement from the Newport News Police Department. Police Chief Steve Drew claims the shooting wasn't an accident, but did not disclose what the intention might have been, per a statement.
Virginia considers any person under the age of 18 to be a child and allows children suspected of committing a crime to be taken into immediate custody by a detention order. According to state law, the age minimum to be tried as an adult is 14 years old. Upon sentencing, the child may be able to serve their sentence in juvenile detention until they reach the age to be transferred to adult prison.
Just before Christmas, a 10-year-old boy in Milwaukee was charged as an adult after fatally shooting his mother.
No other details about the boy have been disclosed, given his age. But his age does leave parents wondering how he ended up in a situation where he could have harmed his fellow classmates.
Read the parents' reactions from NBC News:

Molly Hunter, whose three children attend an elementary school in the district, says the response from Newport News Public Schools has been insufficient.

"The response from the District has made parents like myself feel like the violence that is happening within the schools isn't being adequately addressed," she said. "I believe that the district is working hard — they have had a difficult time staffing our schools. They seem to be stretched thin, and the violence problems are out of control."

Hanan Daoud, who also has children in the school district, agrees. "Being sorry isn't enough!" Daoud commented on the school district's social media post about Friday's shooting. "What's your plan to stop this drama? Put Metal Detectors in school!!!!" Daoud told NBC News she recalled feeling "paralyzed" after she heard that there had been a shooting Friday.
So far, parents demanded metal detectors, clear backpacks as well as backpack inspection upon entry. Newport News Public Schools Superintendent George Parker III responded to the concerns but didn't provide a clear plan of action for moving forward.

"There are many concerns that we will need to unpack before we will be able to determine if any additional preventive measures would have impacted the probability of this incident occurring," he said via CNN.

It's unclear if or how the child will be prosecuted, but that may be possible if the chief can prove his actions were intentional. Regardless of intention, this incident was preventable. Unfortunately, we've experienced far too many school shootings last year to not be prepared for another.