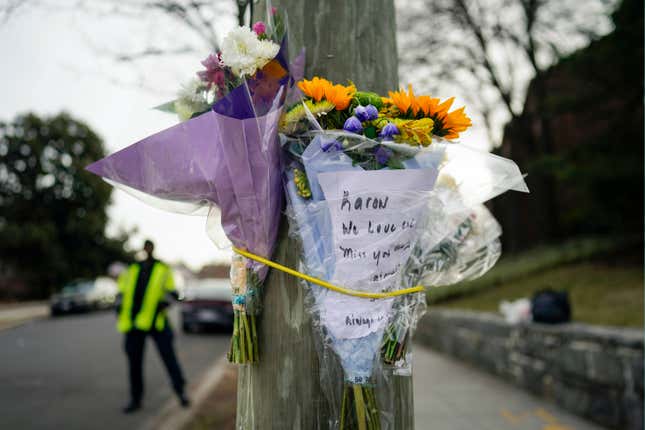 Updated 1/15/2023 at 8:00 a.m. ET  
Tragedy struck the neighborhood of Brookland in Washington, D.C., last weekend. Early on January 7th, 13-year-old Karon Blake was discovered by police with multiple bullet wounds after being shot by a still-unidentified neighbor. Blake later died at the hospital.
Small Town Horror Story: The Vietnam Veteran Who Refused To Leave A Man Behind
Mayor Muriel Bowser later revealed that the man who shot Blake was a D.C. Government employee, who has since been placed on administrative leave. According to reporting by NBC 4, the shooter has recently retained an attorney.
Mourners for the slain 13-year-old have continued their calls for accountability.
According to the DC Metropolitan Police Department, the shooter "heard noises and observed someone that appeared to be tampering with vehicles. The male resident went outside, armed with a registered firearm, to further investigate. There was an interaction between a juvenile male and the male resident. During the interaction, the male resident discharged his firearm, striking the victim."
Police have not arrested the resident who shot Blake, although law enforcement informed the Associated Press that their investigation is still ongoing.
Rumors swirled that Blake had been attempting to steal from cars. But that has not been confirmed. And even if he had been stealing, Blake's family and neighbors pointed out that it doesn't justify shooting a 13-year-old.
"I didn't know you could just kill somebody over property damage. That's just crazy," said Sean Long, Blake's grandfather, at a local town hall meeting, according to the AP.
Roughly 300 residents showed up to the meeting hosted next to the Brookland Middle School, which Blake attended, according to the AP.
At the meeting, DC Assistant Police Chief Morgan Kane told residents that she could not reveal the shooter's identity.
"We want the same thing you want," Kane said, according to the AP. "We want to find out what happened and whatever chips fall, they fall."
Some locals have made it clear that they're prepared to take action if the DC Police won't.
A local abolitionist group Harriet Dreams and Ward 5 Mutual Aid, a local mutual aid group, released a statement on Monday, saying they would find the killer themselves.
"We have compiled the names and identities of all homeowners on and around the 1000 block of Quincy St NE and are researching the backgrounds of the potential culprits," the groups wrote. "If the Bowser Administration does not release the identity of the killer by the end of the business day on Tuesday, January 10, 2023, we will take collective action to keep our community safe."
So far, the group has not released the name of the shooter.
Washington D.C. police have urged people not to try to identify the shooter.
"I think it's getting really reckless and dangerous with some of the behavior that I'm seeing. We normally do not identify people ... in this similar situation unless we have a warrant in hand for that person, or unless there's a person who we are trying to identify and we don't know who that person is. That is not what we're dealing with here," said D.C. Police Chief Robert Contee III made a passionate plea, according to NBC4.
Contee also revealed that the shooter was African-American, which he said indicates the crime was not racially motivated.
Council Member Zachary Parker, who represents Brookland, has also spoken out about Blake's death.
"I've heard from Brookland residents about safety concerns and am eager to address those with focus and intentionality as Council member," Parker tweeted. "I also have deep concerns about neighbors taking justice into their own hands."
At the moment, there are still no real answers, and the Brookland community is still reeling from his death.